Student community mural in Hatfield to signal public space is safe for all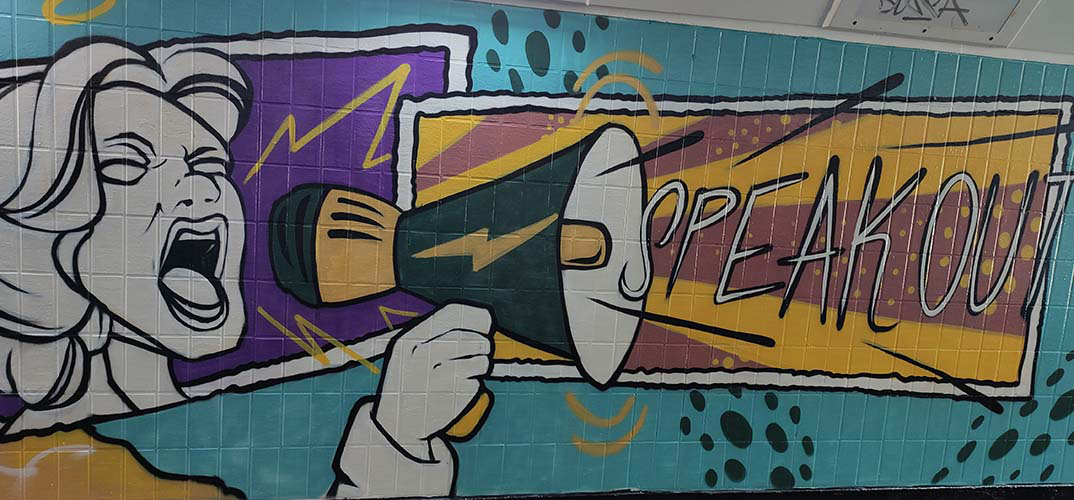 24 May 2022
A new community mural designed by University of Hertfordshire students to portray women's empowerment has been installed in an underpass in Hatfield.
Local organisations have been working together in Hatfield for the past year as part of the government funded Safer Streets initiative.
The mural was installed in the Cavendish Way subway in front of the Galleria, to help improve the visual attractiveness of the underpass, deter anti-social and inappropriate behaviours, and help pedestrians to feel safer and more confident when walking through the area.
The chosen design features images and messages of women's rights as a powerful signal that this public space is open for all to use equally.
The mural was completed as part of the ongoing Safer Streets project, a partnership involving the University of Hertfordshire, Hertfordshire County Council, and the Office of the Police and Crime Commissioner for Hertfordshire.
The Concept proposals for the mural were created by students from the School of Creative Arts at the University of Hertfordshire, as part of a competition.
Students Ehsan Mannan and Srea Repospolo, both undergraduates in graphic design and illustration, won a total prize of £500 when their designs were sprayed on the walls by professional graffiti artists the Wom Collective.
Student Srea said: "As a woman I felt that doing this project was personal and important, relating to my own experiences walking alone at night.
"From ideation to creating the mock-ups, I researched how to prevent violence towards women and existing murals for inspiration. I wanted to bring humour into such a serious topic and chose to use memes that people can relate to and engage with.
"Being selected as the runner-up winner, I am very glad and proud to have been chosen and to be part of this project to bring a positive impact to the community and make women feel safer on our streets."
Safer Streets aims to improve the safety of public spaces to prevent violence against women and girls and anti-social behaviour, as well as supporting the safety of the resident student population through a series of University based initiatives.
As part of Safer Streets, major refurbishment work is almost complete to improve the feeling of safety in underpasses in Hatfield town centre and around the Galleria.
The five subways are having 35 CCTV cameras installed, upgraded lighting, graffiti removed and vegetation trimmed back and mirrors put in to improve sightlines.
The project is being funded as one measure from a £548,000 Home Office Safer Streets grant which was secured following a bid by the Police and Crime Commissioner for Hertfordshire.
The money is also being used for initiatives which are particularly aimed at improving the safety of women and girls. This includes working with the Police and Crime Commissioner to provide students with personal attack alarms and subscriptions to the Holli Guard personal safety app, plus a social media campaign by CrimeStoppers.
The wider work will help build an evidence base for what works to reducing VAWG crimes and increase women and girls' feelings of safety in the public spaces.