Senior lecturer completes his 1,000th robotic operation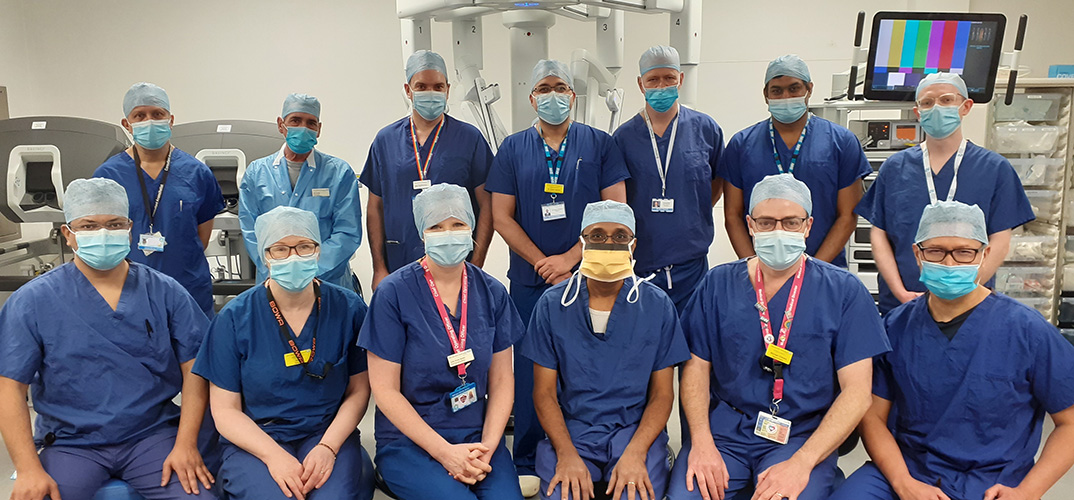 18 March 2022
A surgeon and senior lecturer at the University of Hertfordshire has completed more than 1,000 robotic operations as a urology consultant – less than eight years after his first.
Mr Nikhil Vasdev, who is also associate medical director for cancer services at East and North Hertfordshire NHS Trust, celebrated reaching the milestone with colleagues last week.
After completing his robotic fellowship accredited training with the Royal College of Surgeons of England at Lister Hospital in Stevenage and in California, USA, Mr Vasdev performed his first robotic operation as a consultant at Lister in August 2014.
Reflecting on that day, he said: "I had very strong support from my department including consultant urologists Mr Jim Adshead, Mr Tim Lane and Mr Greg Boustead, who had trained me.
"After completing my first two operations I ended up sleeping at the hospital as I didn't want to go home – fortunately it went well for both patients and I sleep much better now!"
He has been lecturing at the University of Hertfordshire since 2014, first as an honorary senior lecturer before he was appointed the University's urology surgical research lead in 2018. In that time, he has been able to pass on his expertise and experience to the next generation of robotic surgeons, alongside his research into prostate cancer bio markers to improve diagnosis of the disease.
"At the University of Hertfordshire, we have done extensive research on low pressure robotic surgery. Based on this data, we were able to implement protocols to allow robotic surgery to continue at the Lister throughout the COVID-19 pandemic. The clinical data collected has also led to the low-pressure robotic surgery protocol to be implemented internationally in numerous cancer centres across the UK and in the USA, Europe, South America and Asia".
Duncan McLean one of Mr Vasdev's many patients during the pandemic. After being diagnosed with bladder cancer, the 41-year-old had his bladder removed and a new one reconstructed using the small intestine – all through robotic surgery in June 2020.
After the operation, he said: "The whole experience was fantastic. I can't sing the praises of my surgeon Mr Nikhil Vasdev enough – that man saved my life.
"With the dedication that he exhibits himself, you can see why he expects so much from his team – he takes professionalism to a whole new level. He would come in at the weekend to see me and I felt like number one, his top priority – and he was like that with all his patients. But it's not just him, the whole team are amazing."