PR and communications business takes top prize at this year's Flare Ignite awards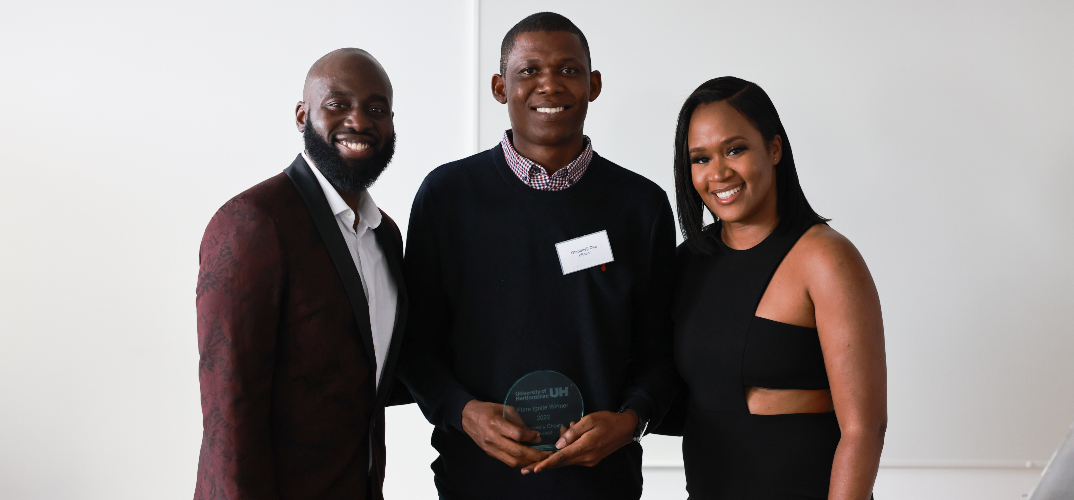 20 June 2022
Oke Oladimeji Amos took home two prizes at this year's Flare Ignite Awards, winning £4,000 for his marketing and communications software business PRbean.com.
Now in its 17th year, Flare Ignite is the University's flagship enterprise competition. It is open to students and alumni with innovative business ideas, who receive entrepreneurial support and training to help bring their ideas to life.
This year's Flare Ignite was held at the University's Enterprise Hub for the first time after the building opened in November 2020 and was attended by the University's Vice-Chancellor Professor Quintin McKellar CBE.
The event was hosted by two former alumni, Raphael Sofoluke (pictured left) and Melina Mavoungou (pictured right). Raphael graduated in 2013 with a joint honours degree in Business and Law, before founding and becoming CEO of the UK Black Business Show. His colleague and Finance Director Melina Mavoungou also graduated in 2013 with a BSc (Hons) Financial Mathematics degree.
Oke won both the Scalable Business Award – the top prize worth £3,500 – and £500 for the People's Choice Award, which was voted for by the audience.
Speaking about the awards, Oke said: "Choosing the University of Hertfordshire is one of the best decisions I have ever made. The support I have received has helped me better understand my business, built on my strengths, and instilled a confidence in me that has led to success. My vision is to make my product an essential tool for every business, starting in the UK before growing globally."
Several other entrepreneurs were recognised at the event. Stephen Trotman took home the second biggest prize, the Innovation and Impact Award, winning £2,500 for his event and media platform The Freezer, which promotes upcoming and underground DJs.
Farrell Masterson and his boxing business The Combination Club won £2,000 for the Lifestyle Business of the Year award. Lauren Williams won the Social Impact Award, also receiving £2,000 for her fashion brand By Lauren Williams, inspired by the concept of sisterhood and Black British culture.
Harpreet Singh won the Engineers in Business Fellowship award, taking home £1,500 for his interactive investor education and awareness platform NiveshaQ.
Jo Stuart, Executive Director for Business, International, Marketing and Recruitment at the University of Hertfordshire, said: "The University of Hertfordshire is an enterprising institution, supporting hundreds of businesses and entrepreneurs each year, including many of our Flare Ignite finalists. This competition is a key part of the extensive support we offer to businesses, and each year I am blown away the entrepreneurial creativity and drive of our student and alumni-run enterprises. Congratulations to the finalists and winners, and I look forward to seeing their businesses develop over the years to come."