Celebrating the University of Hertfordshire's inspirational nursing community on International Nurses Day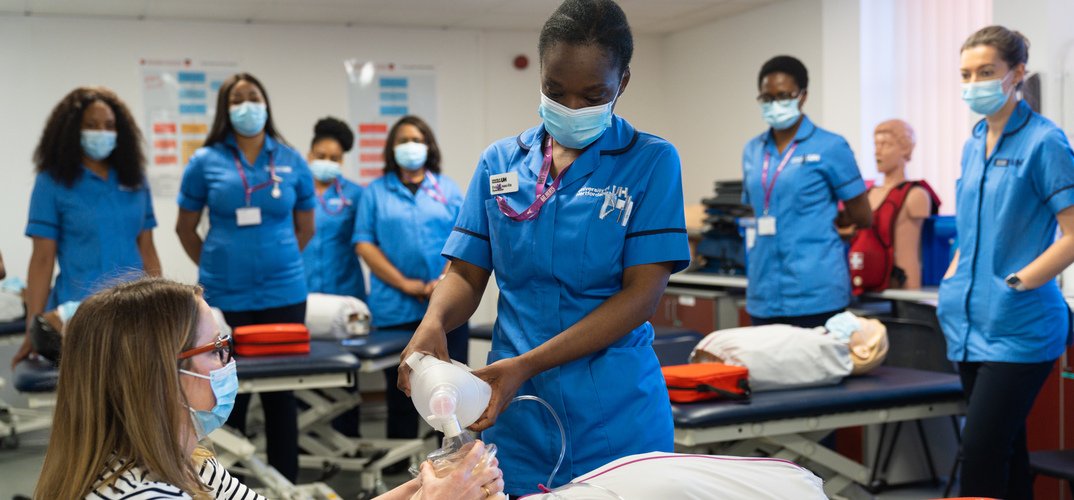 12 May 2022
To mark International Nurses Day on 12 May, the University of Hertfordshire is celebrating the hardworking, passionate and inspirational current and future nurses dedicating their time to caring for others.
As nursing and the wider healthcare profession continues to face immense strain – the legacy of the pandemic, record waiting times, and unprecedented strain on mental health services – the University's School of Health and Social Work (HSK) has seen a consistent increase in the number of applications to nursing courses since the pandemic. Our nursing community continues to rise to the challenges of the profession, enabling students to graduate as skilled and confident professional nurses with long-lasting, rewarding careers.
From the start of their journey at Herts, our community of student nurses learn through high quality teaching and hands-on industry placements to become passionate and resilient members of this challenging profession.
When asked about her biggest motivation, Emily said: "It's going to sound strange, but my biggest motivation is honestly 16-year-old me. Every time I think of her in a child and adolescent mental health unit, alone, scared, and unwell, I am motivated to become the kind of nurse who I needed at that time! I have a job for when I qualify in a neurodivergent team in child and adolescent mental health services, so I will get to work with children with ADHD/autism and mental health difficulties".
Karen Harris is a third-year student training to be a children's nurse. Joining Herts as a mature student and mother, Karen is motivated by her children and the hardworking NHS on her journey in learning to understand people without judgement, how to communicate, and how to have empathy.
When asked about her greatest achievement, Karen responded: "I think my greatest achievement, quite frankly, has been getting to the point where I'm almost qualified! With a significant bereavement, the pandemic and raising three children, sometimes I think it's a miracle that I've got this far. My lecturers have been supportive, and I have put in a lot of hard work to produce good quality assignments and make the most of my practical experience. I won a Dean's Award (our annual awards that celebrate students, staff and alumni of the School of Health and Social Work) in 2021 for Professionalism, Employability and Enterprise and it felt wonderful to have my hard work recognised."
Our fantastic nursing staff at HSK have dedicated their time to both clinical practice and teaching, changing the lives of many students and patients.

Ray Bywater is a Children's Community Manager and Senior Lecturer in Children's Nursing. Ray was originally studying for a horticultural diploma when he was inspired by a friend's career change into nursing. After hearing about her experiences as a paediatric nurse, Ray moved career path and has not looked back.
When asked what advice he'd give to anyone wanting to pursue nursing, Ray said: "Be ready, for nursing will take you on a journey that you may not have imagined or expected. It will change you as a person in a good way, you will meet incredible people, learn so much more than you might have thought, and it will make you proud to be part of the nursing profession."

Laura Lowe is a Senior Lecturer in Mental Health Nursing. She became a mental health nurse fifteen years ago and her career has included time at Child and Adolescent Mental Health Services (CAMHS) and the children's mental health unit at Great Ormond Street Hospital.
Laura commented: "It's always been the young people I've been working with that have motivated me and made me love the job. Keeping recovery in mind when they might have felt it seemed out of reach and knowing that however low or difficult things felt for them, life could get better. Similarly, the families motivated me too – supporting them to support their child."
Find out more about Nursing at Herts.