Award win celebrates students' pro bono work at Hertfordshire Law School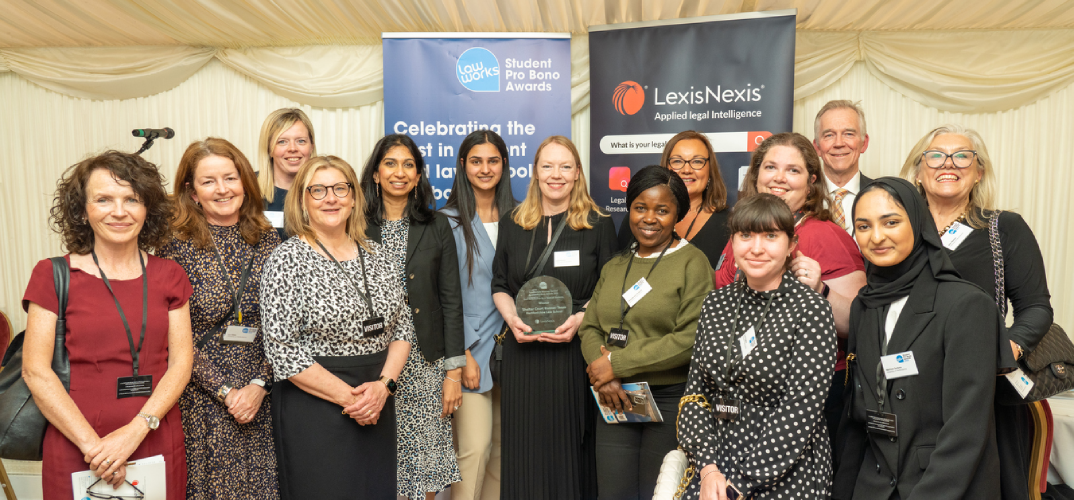 6 May 2022
Students from Hertfordshire Law School have been awarded Best Contribution by a Team of Students at the prestigious Law Works Student Pro Bono Awards 2022, celebrating their contribution to helping vulnerable people at risk of homelessness in Hertfordshire.
Announced in a ceremony at the House of Lords, the Student Pro Bono Awards recognise the best pro bono activities undertaken by law students across the country, and the positive impact their work has on the people they have assisted.
The Herts student team were rewarded for their work with Shelter on the Court Desk Volunteer Scheme, which has been running since 2019.
The scheme sees student volunteers attending Watford and Hertford County Courts on a weekly basis, to support Shelter's in-house solicitor Ruth Camp in helping people who face losing their home as a result of housing repossession.
The students' voluntary work includes triaging cases, interviewing clients to find out and record essential information, helping with the completion of legal aid paperwork, and facilitating communication between the clients and the duty solicitor, usher and others in court.
Ruth Camp, Solicitor at Shelter reflected on the project: "People who come to court are often extremely anxious with fear of the possible outcomes. The students help to put tenants at ease by ensuring that they are seen quicker, and they understand the process and how we can help. Over the last year the students have learnt so much about the law and have impressively enhanced their skills. It is an honour to be given this award in proper recognition of the great work by our team of students."
Oluwabunmi O. Sopitan, one of the Law School student volunteers on the project said: "I see people we represent come in sad and hopeless yet leave beaming with smiles, all because their housing challenges are resolved.
"With the unwavering support of the Hertfordshire Law School and Ruth, whose sterling qualities and passion have rubbed off on the team of Law students, I am personally having the most fulfilling experience and grateful that I can do my little bit to help someone."
Over the last year, their help has enabled a 20% increase in the number of vulnerable people that Ruth is able to assist, while giving students vital experience in observing negotiations and court hearings to support their training. One District Judge commented, "Assistance provided by the scheme is invaluable, not only to those receiving their assistance, but to the other parties involved in the hearings and to myself as judge".
Diana Kirsch, Associate Dean for Enterprise and Director of Pro Bono at Hertfordshire Law School, spoke of her delight at the success: "I'm thrilled that the students' work has been recognised with this award. Pro Bono work is a vital part of what we do at the Law School, and this collaborative project with Shelter enables the students to take centre stage and make a real difference to clients.
"It also gives them the invaluable opportunity to see law in practice and develop client-facing skills that can't be practised in a student setting – which will make them better lawyers when they finish their studies and enter the profession".
Professor Julie Newlan, Deputy Vice Chancellor, commented: "I was delighted to attend the Law Works Pro Bono Awards and see the success of our students and staff in such a worthwhile initiative. The pro bono work that the Hertfordshire Law School undertakes makes such a helpful contribution to the local community, and of course gives such valuable experience to our students.
"We could not do it without partners such as Shelter, and we are grateful to be working with them. This recognition is absolutely wonderful and very well deserved".
Hertfordshire Law School was also shortlisted for Best New Pro Bono Activity, for the Young Asylum Seekers Legal Advice Clinic, and Highly Commended in Best Contribution by a Law School for the impact and scope of its pro bono activities.