University of Hertfordshire's Enterprise Hub wins 'Project of the Year' Award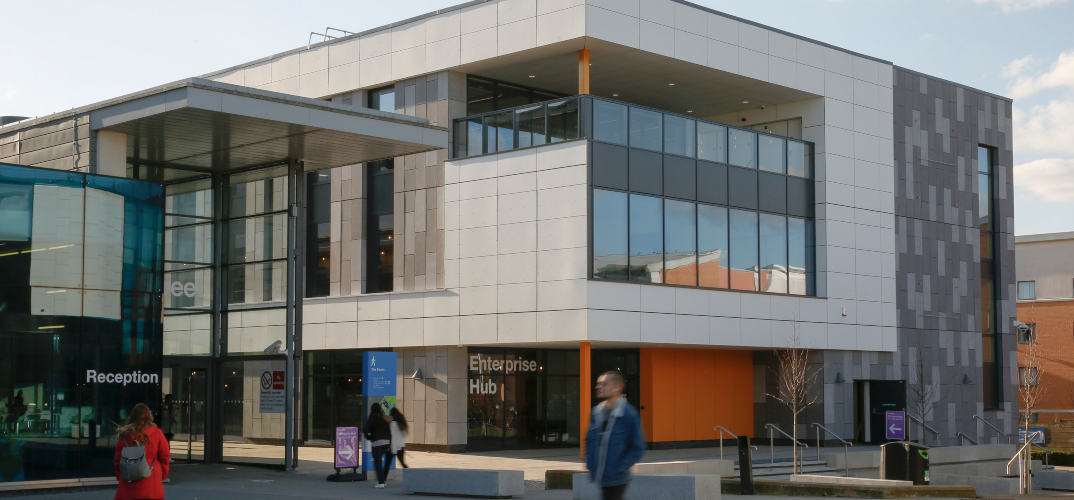 16 August 2021
The University of Hertfordshire's Enterprise Hub has been named the East of England Constructing Excellence 'Project of the Year'.
The project has been praised as an excellent example of a Higher Education building that achieves a balance between workspace and education, encouraging open learning and professional development through collaboration, and supports entrepreneurship by sustaining the transition from academic education to professional practice.
The Enterprise Hub was opened in March 2020 at a critical time for businesses in the region as they dealt with the consequences of the COVID-19 pandemic. Located on the University's de Havilland campus, the modern and fully equipped Enterprise Hub provides collaborative and social spaces for entrepreneurs, academics and students; helping bridge the gap between the business community and academia. The building provides modern co-working spaces for commercial businesses alongside classroom and informal teaching spaces, bringing together business and students in the ground floor social space providing both daytime coffee and dining experiences.
Ian Grimes, Director of Estates at the University of Hertfordshire, said: "We are incredibly proud and honoured to receive such an award. The Enterprise Hub has been created to facilitate collaborative learning, support entrepreneurship, and provide flexible spaces for people to share experiences and socialise; and this award is a fantastic tribute to what we set out to achieve. The building itself is a testament to the spirit of collaboration we envisioned with exemplary collaboration between the client, design and contractor teams who came together to make the Enterprise Hub a reality. As we continue to invest in our facilities, I look forward to more people and businesses making excellent use of the space and facilities available."
The Enterprise Hub represents another milestone in the University's ongoing investment and commitment to providing support for all businesses, regardless of their size or sector. The building is part of a £12m investment, which has been part-funded by a £2.5m Local Growth Fund investment from Hertfordshire Local Enterprise Partnership (LEP).
Nitin Dahad, Chair, Enterprise and Innovation Board, Hertfordshire Local Enterprise Partnership said: "We are delighted that the LEP played an important part in making the Enterprise Hub a reality, connecting education and entrepreneurship under one roof. The quality of the build and design only enhances the experience and makes this a great place to come together, share ideas and collaborate."
The judging panel also praised the Enterprise Hub for significantly enhancing and expanding the University of Hertfordshire's support for businesses, bringing value to the University that extends beyond the campuses and to a variety of local community stakeholders, and providing people-focused and flexible spaces with soft, welcoming user-friendly interiors that cater for the wellbeing of its users.
Constructing Excellence is a construction industry membership organisation that aims to drive positive change within the construction sector through innovation and collaboration. Their members are drawn from across the entire supply chain, ranging from clients, through contractors and consultants, to suppliers and manufactures of building materials and components. Constructing Excellence is part of BRE (Building Research Establishment), which provides research, advice, training, testing, certification and standards to construction organisations in the UK and abroad.
Find out more about our Enterprise Zone
Take a virtual tour of the Enterprise Hub below: