University of Hertfordshire receives positive feedback in latest NSS results amid pandemic response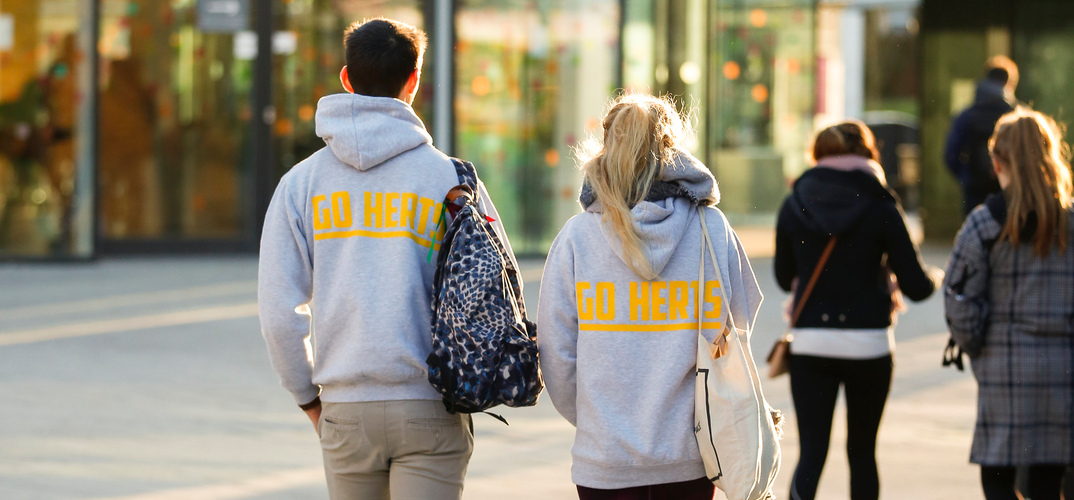 16 July 2021
For the fourth year running, the University of Hertfordshire's student community has confirmed that their feedback is being heard and acted upon in the latest National Student Survey (NSS) results.
The University achieved above the sector for Student Voice (69.23%) with students highlighting in particular that staff at the institution value their views and opinions. As a direct result of student feedback, this year the institution has launched successful initiatives such as its Safety Net Policy, alternative study spaces, and virtual communities.
The institution also scored above sector average for Learning Community (68.43%) with students reporting that they feel part of a community, both virtually and physically, and that they have the right opportunities to collaborate and work with others on their course.
Since March 2020, the University has been focused on delivering a transformational higher education experience, even against the backdrop of a global pandemic. The NSS scores reflect this work, with Herts receiving excellent feedback for its Learning Resources (74.85%), against the sector trend. This year has seen significant investment in a flexible approach to ensure resources are accessible to all, including the provision of over 2,000 devices to help students study from home. During this time, students also said that they felt changes in their course were communicated effectively (71.78%).
Many subjects at Herts received excellent student satisfaction scores, with Electrical and Electronic Engineering, Nutrition and Dietetics, Teacher Training, Health Sciences, and Humanities, all ranking in the top 10% of institutions nationwide for overall student satisfaction.
Dr Mairi Watson, Pro Vice Chancellor Education and Student Experience, said:
"In such an exceptionally challenging time for staff and students in the Higher Education sector I am thrilled to see that the University has performed above the national average in many areas in this year's NSS. We have a fantastic community here and I am delighted that our approach to engage with students as partners in their teaching and learning has been reflected so positively through these survey results. We are dedicated to ensuring every individual reaches their full potential at the University of Hertfordshire and I would like to thank all staff for their efforts as they continue to strive for the absolute best for students."
Rhiannon Ellis, President of the Hertfordshire Students' Union, said:
"The National Student Survey is one of the most important sources of honest feedback, capturing the views of final year students. It is great to see today's results highlighting that students feel their feedback is acted upon and opinions valued by staff, to ensure the University provides the best learning and teaching experience possible. We are all part of a strong, supportive community here at Herts and the Hertfordshire Students' Union would like to thank our students for taking the time to be part of the NSS this year."