University of Hertfordshire ranked 16th in England for social mobility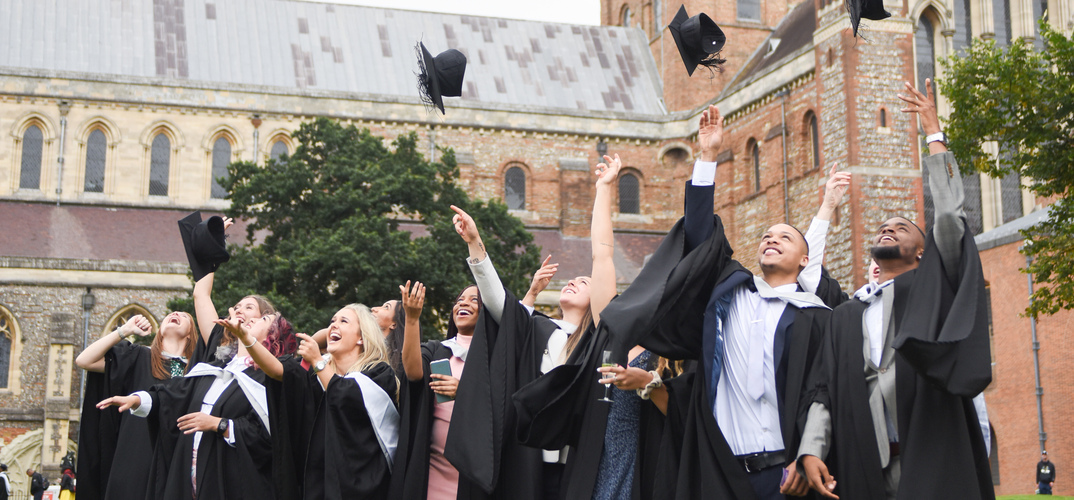 24 November 2021
The University of Hertfordshire has been ranked 16th in England for social mobility impact, in a new report by the Institute for Fiscal Studies in partnership with the Sutton Trust and Department for Education.
The report, released today, ranks all English universities by mobility rate, which considers the proportion of students from low-income backgrounds and whether those students make it to the top 20% of earners by the age of 30.
The study is the first of its kind to list universities by social mobility outcomes, and focuses on students who attended in the mid-2000s and are now established in their careers. It comes as the Department for Education announce new plans for universities to broaden their access and participation work in their local community, and improve student outcomes.
The University of Hertfordshire is proud to be home to a diverse community of students, and has a strong record in increasing access and participation.
50% of the University's students are the first generation in their families to attend university, while 70% of UK and EU undergraduates are from groups under-represented in higher education: including Black, Asian and Minority Ethnic (BAME) students, those from parts of UK with low rates of progression to HE, students from low-income households, and disabled students.
To ensure all students can reach their full potential, the University runs a programme of targeted support and has ambitious strategies to reduce inequality, with recent successes including the significant reduction of the BAME awarding gap, and an award-winning support programme for estranged students.
Partnerships are also a key part of the success story. Working with primary schools, secondary schools and colleges across Hertfordshire enables the University to support a broad group of students throughout their education and their journey to higher education, while strong links with industry enhance graduates' skills and employability.
Dr Mairi Watson, Pro-Vice Chancellor for Education and Student Experience, said today: "The findings of the new report are testament to our commitment to making sure the University of Hertfordshire is a place where everyone can succeed.
"We put the student experience at the heart of everything we do, from our curriculum, learning and teaching, to wellbeing services and life on campus. It's not enough to just welcome a broad range of people through the door – it's vital that all students, especially those from groups who face greater social barriers, are given the support, encouragement and skills to thrive at university and beyond."
The full report, 'The best university degrees for intergenerational mobility', is available on the UK government website.