University of Hertfordshire Law Court named after Dr Grace Ononiwu CBE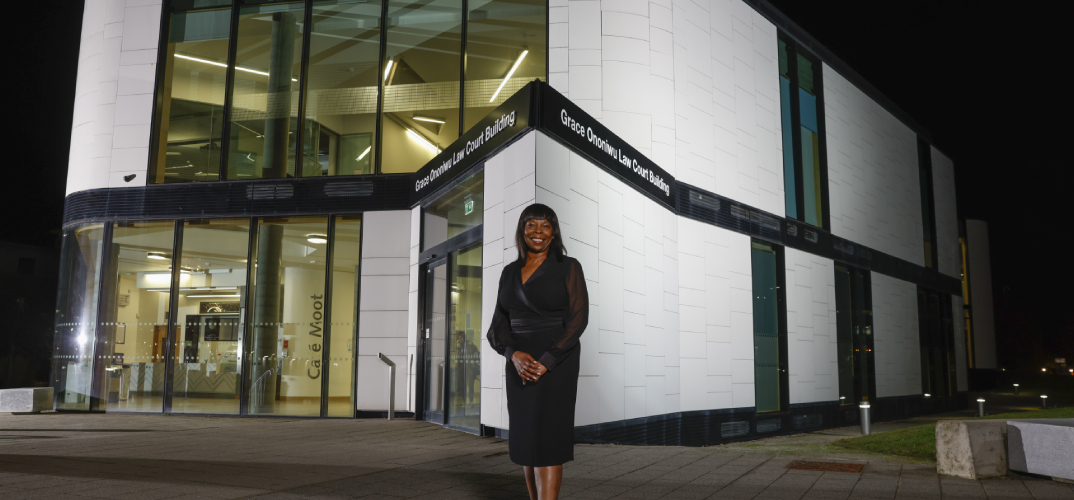 19 November 2021
The University of Hertfordshire's Law Court Building has been named in honour of Dr Grace Ononiwu CBE, alumna and the first Afro-Caribbean person to serve as Chief Crown Prosecutor in the UK. Grace is now the Director of Legal Services for the Crown Prosecution Service (CPS), and patron of the University of Hertfordshire's Law Clinic.
The Law Court Building, located on the University's de Havilland campus, has been named after Grace in recognition of her outstanding contribution to the legal and justice system, including her ongoing work promoting legal education. Its new name, the Grace Ononiwu Law Court Building, was celebrated at an event on campus last night, attended by Grace and the Chair of the University's Board of Governors Dr Lynn Drummond.
Speaking at the event, Dr Lynn Drummond said: "We are proud that Grace is a University of Hertfordshire graduate. She has had a fantastic career in law and is one of the University's most successful alumni. This, alongside her continued support of Hertfordshire Law School and patronage of Hertfordshire Law Clinic, means she is an inspirational role model for our students. We are honoured to name the Law Court Building after her."
Dr Grace Ononiwu CBE said: "I am so proud to be recognised by the University of Hertfordshire and associated with one of the most diverse and inclusive Law Schools in the country. This building symbolises the start of my professional journey and its doors will remain wedged open for all future aspiring lawyers regardless of background or circumstance. Thank you for all of the support, it's truly appreciated."
The unveiling coincides with the building's 10th anniversary this month. It is home to the award-winning Hertfordshire Law Clinic, which provides free legal advice to the local community, and a full-scale replica crown court with a public gallery.
As well as state-of-the-art facilities, Hertfordshire Law School students are immersed in the legal and professional world through innovative teaching, real-world experiences, and access to our network of industry professionals, giving them a wealth of skills and contacts to succeed in their future careers.
The University's law provision is delivered by a diverse range of current and former solicitors, barristers, industry professionals and researchers, enabling students to gain an excellent education alongside practical experience. Students can get involved in pro bono activities to help build their skills, including volunteering for the Law Clinic.
The University of Hertfordshire has also been authorised by the Bar Standards Board (BSB) to deliver barrister training, the first time a university has received approval since 1997. The Law School will deliver two vocational programmes, PgDL Bar Practice and LLM Bar Practice, with both courses starting in January 2022.
About Dr Grace Ononiwu CBE
Grace graduated from Hatfield Polytechnic (now the University of Hertfordshire) in 1988 with a degree in BA (Hons) Law and Social Sciences, before qualifying as a solicitor three years later. She then joined the CPS and rose quickly through their ranks. Not only was Grace the first Afro-Caribbean Chief Crown Prosecutor in the UK, but she was also the first woman to hold the position in Northamptonshire, the East of England, and West Midlands regions. In April this year, Grace was appointed as Director of Legal Services for the CPS.
In 2017, Grace was awarded an Honorary Doctorate of Law from the University of Hertfordshire. She received a CBE in 2019 for her services to law and order.
Grace is also the patron of Hertfordshire Law Clinic.
Image copyright © Ian Scott Photography, 2021