University of Hertfordshire exhibition tackles sexual assault myth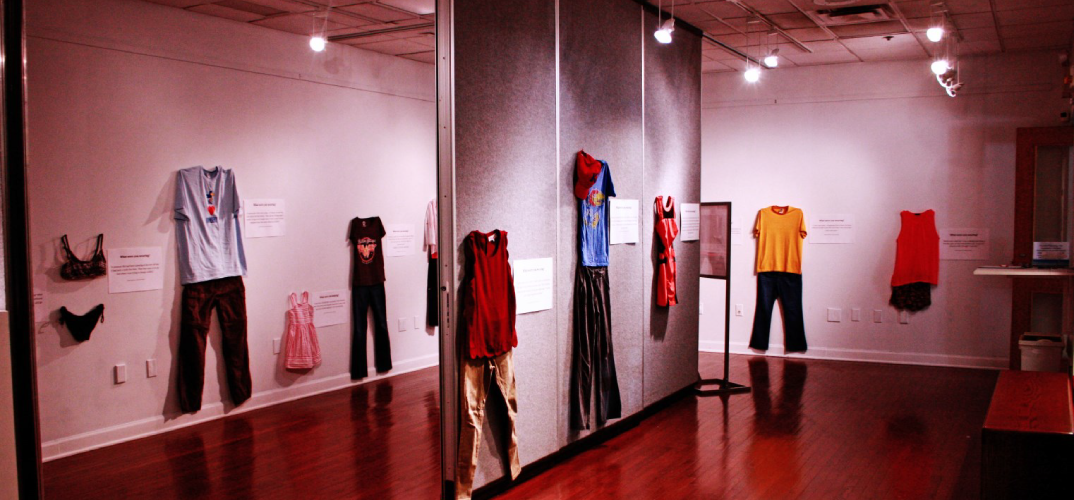 29 October 2021
Content warning: sexual assault and rape.
An exhibition at the University of Hertfordshire will tackle the myth that a victim's clothing contributed to their sexual assault.
What Were You Wearing? will feature 40 different narratives from survivors alongside recreations of what they wore during the assault. Commissioned in partnership with Red Kite, a charity supporting survivors of sexual abuse, the exhibition will highlight the question that is frequently asked of survivors, which puts blame on to the victim instead of the perpetrator. It will also aim to dispel the misconception that the victim could have prevented the crime if they had worn different clothing.
Hertfordshire Law School students have supported the exhibition by researching the topic and sourcing the clothing items. They will attend the exhibition, supported by staff from the Law School and Red Kite, to help raise awareness of this issue and encourage important discussions about sexual violence.
What Were You Wearing? was created originally by Jen Brockman and Dr Mary Wyandt-Hiebert from the University of Arkansas. They were inspired by Dr Mary Simmerling's poem What I Was Wearing, which describes her own experience of rape.
Dr Mateja Vuk, lecturer in Criminology at the University's Law School, commented: "Studies show that the vast majority of survivors do not report sexual victimisation due to fear, shame, and self-blame. Using a visual representation of survivors' stories, we want the visitors to see themselves reflected in the outfits and narratives to challenge prejudices against victims.
"By validating and believing survivors' stories, we are moving away from blaming them for violence and we are shifting responsibility on those who caused harm. It is never about the clothes. What should be the focus, however, is our society that makes it acceptable to ask "what were you wearing" in the first place".
Diana Kirsch, Director of Pro Bono at Hertfordshire Law School, said: "Survivors of sexual assault are often asked what they were wearing, but this question simply doesn't matter. A victim or their choice of clothing is never to blame, and this question takes responsibility away from the perpetrator and puts it squarely on the victim's shoulders.
"This exhibit is a powerful display of our solidarity with survivors, as well as of resilience and understanding. It is important that we continue to tackle this deep-rooted myth."
Siobhan Nundram, Chair of Red Kite, said: "Red Kite is excited and proud to be partnering with the University of Hertfordshire in delivering the What Were You Wearing? exhibit. We will be present throughout the week to support the students and staff to raise awareness and generate conversations about the circumstances under which rape and sexual abuse occur. We hope to get attendees thinking about the changes that need to occur in society to reverse the trend and make life safer and more comfortable for everyone."
The exhibition will be in the Chapman Lounge at the University's College Lane Campus from 1 to 5 November, opening at 10.00am on Monday, then 9.00am – 5.00pm for the rest of the week. Entry is free, and the exhibition is open to the public.
Several experts from Hertfordshire Law School will also hold a lecture covering research in this area, specifically drug use, sexual victimisation, and flashing. The lecture will take place on 2 November at 5.30pm, in Prince Edward Hall on the University's College Lane campus. This event is also open to the public and attendees do not need to sign-up.
If you need support and are a University of Hertfordshire student, you can contact the Student Wellbeing team. Alternatively, you can contact Red Kite's helpline (01279 7904500) or the Herts Sexual Assault Referral Centre (herts.sarc@nhs.net / ​0808 1784448).