Supporting Herts students in 2021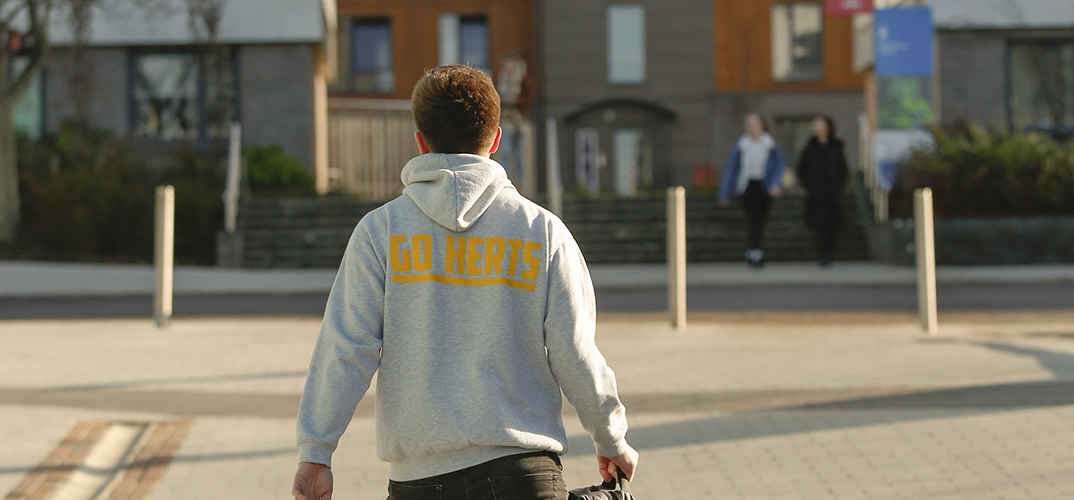 13 December 2021
A look back on how students have been generously supported by donations in 2021.
At Herts, our aim is to bring the transformational impact of higher education to all, and we don't want financial worries to be a barrier to education. Alongside the University's own package of benefits for students in need, the additional financial support from our alumni community makes an enormous difference to the lives of our students, so thank you!
From funding our ground-breaking research projects, rewarding aspiring entrepreneurs, to transforming the lives of students who need extra financial assistance, every donation we receive has a significant impact.
The University Financial Assistance Fund
The University Financial Assistance Fund provides grants for students facing real unexpected financial hardship, without which, they could be forced to withdraw from their studies.
In the academic year 2020/2021, the University was able to give grants to 131 students in financial need. Of these, 40 were students with dependants, and 71 were final-year students. The average grant awarded by the fund was £821.93.
Each year, the University receives applications from a wide range of students, including mature students, many of whom have dependants who endeavour to complete their degrees in challenging circumstances. In addition to direct financial support, advice and mentoring is given to all applicants regarding financial management and budgeting, with individuals required to complete online training modules prior to their application being assessed.
The COVID-19 Student Relief Fund
When the pandemic hit the UK in early 2020, students faced extra financial pressures that were unprecedented. In response to this, we established a new fund called the COVID-19 Student Relief Fund. This Fund supported students facing significant financial difficulties as they lost part-time work which they relied on to support their studies and families.
The Office for Students provided the majority of this funding for our students, but the University supplemented the fund with it's own hardship funding and additional donations from our generous alumni and staff. As a result of this collective effort, we were able to help both UK and international students with grants totalling nearly £1.5m in COVID-19 support.
Philanthropically funded Scholarships and Prizes
Herts students also have the opportunity to benefit from 'prizes' which have been generously donated by our supporters, including many alumni, to recognise academic achievement, improvement and commitment, or the contribution an individual student has made to the University community. We also offer a range of bursaries donated by individuals to support disadvantaged students to continue and thrive in their studies.
Read the inspiring stories from two of our recent beneficiaries Meyesh Elliel and Skye Bramley from the Hertfordshire Law School.
Enterprise Fund
Our Enterprise Programme helps turn brilliant business ideas into a reality. It offers talented students and graduates financial awards and support that helps to kick-start their businesses and grow their entrepreneurial ambition. The generous donations we receive to our Enterprise Fund supports this activity, from grants made to start-up business ideas, to running boot camps and supporting freelancers.
Learn more about this year's flare ignite winner Sophia Roberts who won £3,500 towards her business.
Find out more