One of the largest telescopes for students in the UK is installed at Bayfordbury Observatory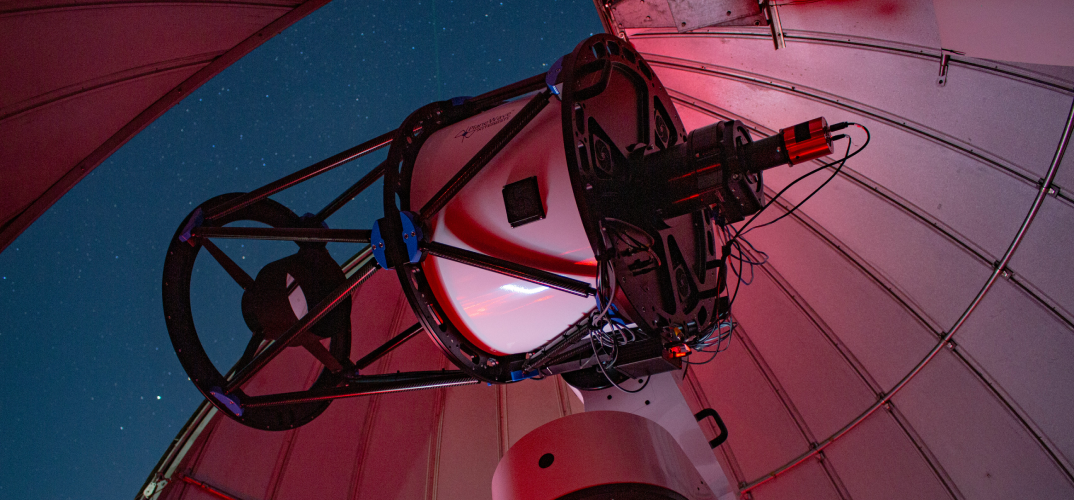 8 November 2021
The University of Hertfordshire's Bayfordbury Observatory has recently installed one of the largest telescopes available to undergraduates and postgraduates in the UK.
The Planewave CDK24 was recently installed at the University's observatory site
There are only two other telescopes like this in the UK available for student use
The new Planewave CDK24 has a 60cm diameter mirror, gathering over twice as much light as the telescope it has replaced. This allows for a greater quality and quantity of observations at one time. The mount of the telescope can also move faster and more accurately, further improving the amount and quality of observations. There are only two other telescopes like this in the country that are routinely used by students.
The first telescope at Bayfordbury was built in 1969 and upgraded in the mid-80s, and has remained the largest telescope at the observatory since. Over the years a number of computerised telescopes were procured; more recently, three have been converted to robotic telescopes to enable students to make observations remotely.
The addition of the Planewave CDK24 will be especially beneficial for the University's new postgraduate Astrophysics course, in which students explore cutting-edge study and research at the internationally renowned Centre for Astrophysics Research. Students are trained in observational astrophysics at Bayfordbury Observatory as they develop specialised research skills.
David Campbell, Principal Technical Officer at Bayfordbury Observatory, said: "I'm delighted with the new installation and the images we've already been able to capture. This represents one of the largest single investments at the Observatory in two decades and will be a significant boost to our teaching capabilities. For students wishing to pursue astrophysics - one of the oldest academic disciplines around - it is a great attraction for studying at Hertfordshire as we continue to add to our world-leading teaching and research facilities".
Bayfordbury Observatory is the University of Hertfordshire's teaching observatory for astronomy and astrophysics. It is the most extensive teaching observatory in the UK featuring seven large, individually housed optical telescopes; four radio telescopes; solar telescopes; a high-definition indoor planetarium and two inflatable planetariums; and an atmospheric remote-sensing platform. With the observatory located near Hertford in University-owned woodland and parkland, the countryside setting provides dark, steady skies to support undergraduate and postgraduate studies.