Graduation 2021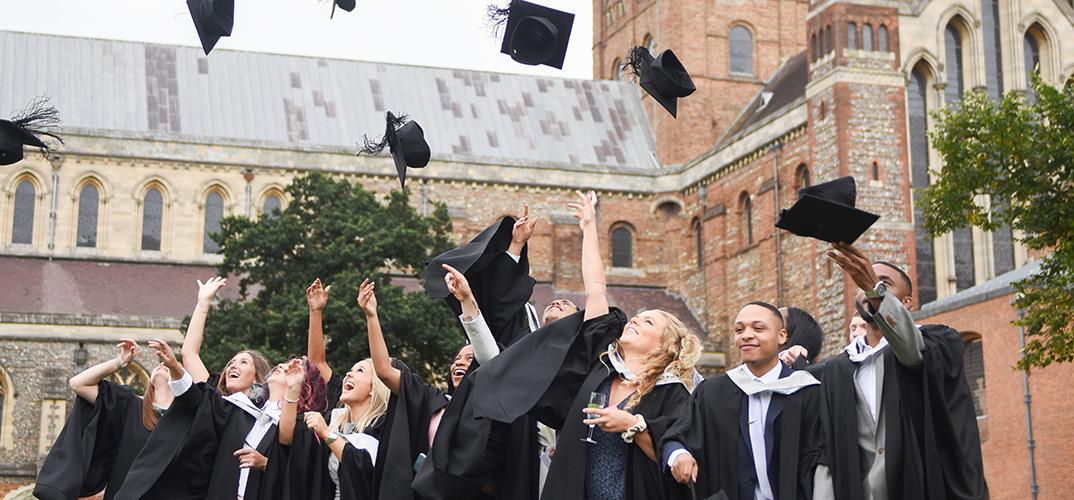 17 September 2021
The University's graduation ceremonies took place earlier this month, with over 6,000 graduates from both the Class of 2020 and Class of 2021 and their guests in attendance.
In total, we held 26 ceremonies, celebrating the achievements of our graduates at the iconic St Albans Cathedral.
The awards were presented by Lord Salisbury, Chancellor; Professor Quintin McKellar, Vice-Chancellor; Professor Matthew Weait Deputy Vice-Chancellor, and Dr Lynn Drummond, Pro-Chancellor and Chair of the Board of Governors.

This year, the whole event was situated within the grounds of The Cathedral and Abbey Church of Saint Alban with elegant marquees for robe hire, photography studios, and a post-ceremony celebratory drinks reception.

Of course, the British weather did have the odd surprise in store with temperatures fluctuating between a sizzling 29 degrees and a wet and cool 14 degrees!

We were lucky enough to recognise some of our esteemed and notable alumni amongst the Honorary Doctorates awardees, including:
Sarah Beazley, High Sheriff of Hertfordshire (2019-20)
Kim Little, professional footballer for Arsenal, Scotland and Team GB
Dr Stuart Clark, celebrated astronomer, author and journalist
Simon McNamara, Chief Administrative Officer at the Royal Bank of Scotland.
You can find out more about them their achievements on this link
Football pundit and former England footballer Alex Scott MBE was also recognised, and she delivered an inspirational speech after collecting her Honorary Doctorate in Science.
Alex said: "To receive an honorary doctorate in science from the University of Hertfordshire truly is humbling and is such a personal and professional achievement. Throughout my career, as a footballer, and now as a broadcaster, I have been supported by some incredible individuals and institutions.
The University of Hertfordshire played a huge role in my sporting life. I signed with Arsenal Football Club at the age of 8, and for most of my career I trained at the University's Hertfordshire Sports Village. The Village quite simply became my home away from home for many decades of my sporting career – it is a very special place and deserves huge credit for my footballing progress."

Reflecting on the ceremonies, Vice-Chancellor Professor Quintin McKellar CBE said: "We were thrilled to return to the beautiful setting of the Abbey to hold the graduation ceremonies. Our students and staff have faced the challenges of the last 18 months with extraordinary resilience, dedication and creativity. Their hard work and commitment has been outstanding. It was a truly special time to come together as a community to celebrate their achievements."