Football stars awarded honorary doctorates as University of Hertfordshire graduation returns to St Albans Abbey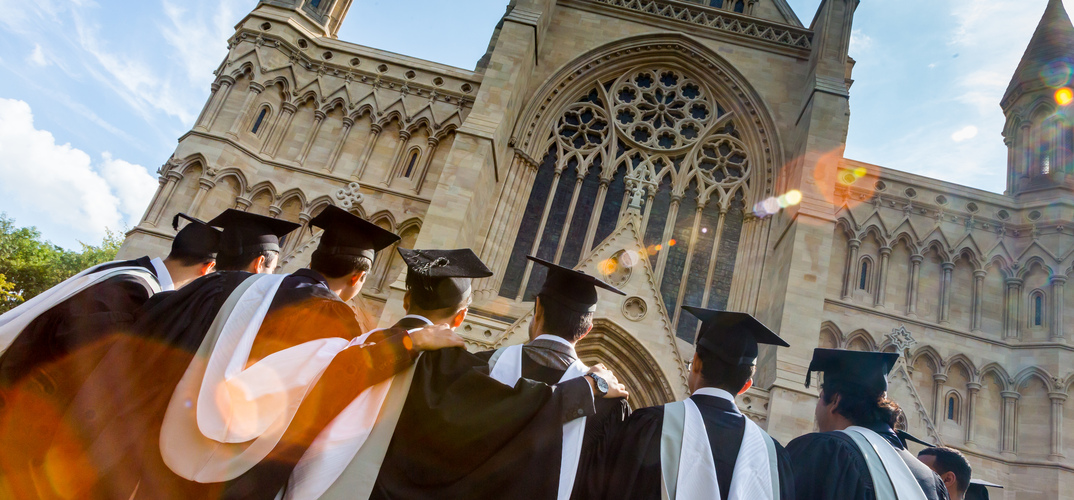 1 September 2021
This month, graduation celebrations for the University of Hertfordshire will return to St Albans Abbey for the first time since 2019. Alongside the many students receiving their degrees, the University is awarding honorary doctorates to leading figures in football, astronomy, the film industry and many more.
Celebrating the University's strong reputation in sports studies and training, honorary doctorates for 2021 include: leading football pundit and former England footballer Alex Scott MBE; current Arsenal captain and Team GB Olympian Kim Little; and former England and Watford FC star Luther Blissett. All will become Honorary Doctors of Science.
First signing with Arsenal at the age of 8, Alex Scott enjoyed an immensely successful career with Arsenal and England, as well as representing Team GB at the 2012 London Olympics. For much of her career, she trained at Hertfordshire Sports Village at the University. After retiring from football, Alex has become a celebrated and award-winning broadcaster for the BBC and Sky Sports, including being the first female football pundit at the World Cup in 2018. Alex has become a huge influence on the popularity of the women's game and equality within the sport.
Alex said: "To receive an honorary doctorate in science from the University of Hertfordshire truly is humbling, and is such a personal and professional achievement.
"Throughout my career, as a footballer, and now as a broadcaster, I have been supported by some incredible individuals and institutions. The University of Hertfordshire played a huge role in my sporting life. I signed with Arsenal Football Club at the age of 8, and for most of my career I trained at the University's Hertfordshire Sports Village.
"The Village quite simply became my home away from home for many decades of my sporting career – it is a very special place and deserves huge credit for my footballing progress.
"Along with all the graduates celebrating their outstanding achievements, I also want to congratulate my fellow sporting and football colleagues for their honorary doctorates in science - current Arsenal captain and Team GB Olympian Kim Little; and former Watford FC star Luther Blissett".
Kim Little has a degree in Sports Studies from the University of Hertfordshire. This summer she was co-captain of Team GB's Women's Football Team, in her second Olympic Games. She is also captain of Arsenal and vice-captain of Scotland, and has previously won FA Women's Player of the Year and BBC Womens' Footballer of the Year.
Luther Blissett made over 300 appearances for Watford FC between 1975-1989, helping the team rise from the fourth to the first division. In his international career, he became the first black player ever to score a hat-trick for England. He later re-joined Watford as a coach, and moved into football punditry and campaigning for local community work and against discrimination.
They will receive their honours alongside the 2020 and 2021 graduates of the University of Hertfordshire, many of whom have waited many months for this moment due to the disruptions caused by the pandemic.
Professor Quintin McKellar, Vice Chancellor of the University, said: "We are thrilled to be returning to the beautiful setting of the Abbey to hold graduation ceremonies. Our students and staff have faced the challenges of the last 18 months with extraordinary resilience, dedication and creativity. It will be a truly special moment to come together as a community to celebrate their achievements.
"We are also delighted to welcome fourteen new honorary doctorates, each of whom embodies our values through their work, and have made a significant impact on the University, the local community, and their areas of specialism".
The full list of honorary doctorates awarded this year:
Richard Beazley DL, Vice-Lord Lieutenant of Hertfordshire and former Chair of the University of Hertfordshire
Sarah Beazley, High Sheriff of Hertfordshire (2019-20)
Luther Blissett DL, former professional footballer, coach and pundit
Roy Button OBE, former Head of Physical Production at Warner Bros. UK and founder of the Warner Bros. Creative Talent Scheme
Chaudhry Faisal Mushtaq TI, founder and CEO of Roots Millennium Schools and The Millennium Universal College, Pakistan
Dr Stuart Clark, celebrated astronomer, author and journalist
Sue Grant, former Registrar of the University of Hertfordshire
Professor Jeffrey Idle, biochemical pharmacologist and pharmacogeneticist
Kim Little, professional footballer for Arsenal, Scotland and Team GB
Simon McNamara, Chief Administrative Officer at the Royal Bank of Scotland
Anna Morrison, director of Amazing Apprenticeships Ltd.
Alex Scott MBE, former professional footballer and broadcaster
The Venerable Jonathan Smith, former archdeacon of St Albans
Dr Nikhil Vasdev, consultant at Lister Hospital and leading urological surgeon, specialising in robotic surgery and surgical urological oncology