Double award win for University of Hertfordshire from Advance HE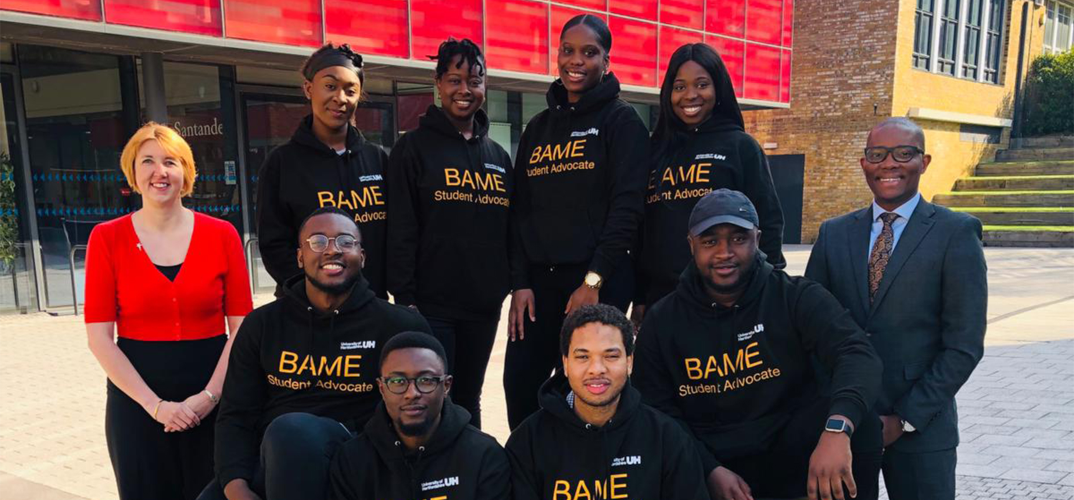 5 August 2021
Staff and students at the University of Hertfordshire have won national awards recognising the outstanding work of the Student Success Working Group, and exceptional teaching by the Head of Skills and Apprenticeships, Gilmar Queiros.
Each year, Advance HE celebrates students and staff for their magnificent contribution to higher education. This year we are proud that the University has won two awards and has achieved a number of fellowships, demonstrating commitment to professionalism in learning and teaching in higher education.
The group, led by Deputy Director of the Learning and Teaching Innovation Centre, Helen Barefoot, formed in 2016. Its aim is to tackle the awarding gap between White and BAME students – a key strategic objective for the University – while putting students' voices at the heart of the work.
Since the creation of the working group, the University has addressed the awarding gap through developing inclusive teaching guidance, decolonising the curriculum, designing and implementing a cross-institutional action plan, and the formation of the BAME Student Advocate programme to directly support students and tackle inequalities.
In 2019-20, the University successfully reduced the awarding gap for BAME students in almost every school, in pursuit of achieving their target of a 50% reduction overall by July 2025.
Helen Barefoot said: "I am delighted that the BAME Student Success Working Group has been nationally recognised. Student-staff partnership underpins the work of our purposefully diverse group. Through representation from all academic schools and professional departments, we have facilitated widespread conversations about race, racism and white privilege.
"Insights from current BAME Student Advocates and alumni group members have enabled us to critique our practice to advance race equity. We want to ensure significant and sustainable change."
The National Teaching Fellowship, awarded to Gilmar Queiros, celebrates individuals who have made an outstanding impact on student outcomes and the teaching profession in higher education.
Head of Skills and Apprenticeships in Enterprise and Business Development, Gilmar has worked successfully to maximise the potential of the University's apprenticeship provision.
Through his work, the institution's recruitment and apprenticeships have increased by 175%, from 326 to nearly 900 apprentices, across Health, Life Sciences, Engineering, Digital, and Management.
Gilmar commented: "I'm honoured to receive this prestigious award from Advance HE. This is a recognition of the University's apprenticeship and work-based learning development and ambitions. Our primary focus is to lead and support the University's apprenticeship and flexible-delivery provision, which we are continuing to expand in both scope and across different disciplines. Our provision aims to address the skills needs of employers and provide a pathway for learners where they gain a recognised training whilst building and nurturing vital industry experience".