COVID-19 vaccination centre opens at the University of Hertfordshire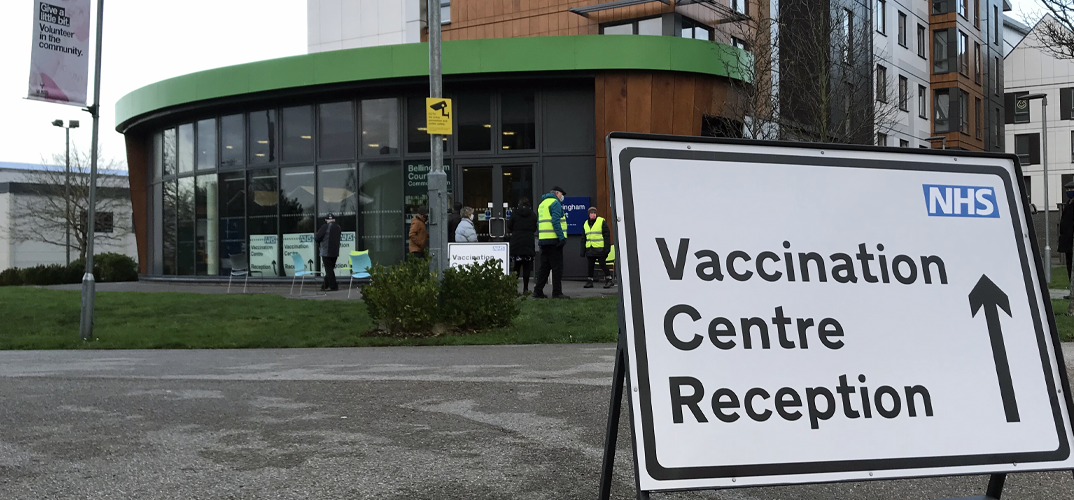 7 January 2021
The University, in partnership with the NHS, has opened a new vaccination centre on campus today, helping to protect those most at risk of COVID-19 in the community. Located in the Bellingham Court Common Room on the University's College Lane campus, the centre marks an important step in the national fight against the COVID-19 pandemic.
Run by the Hatfield Primary Care Network, the centre will be working to get the vaccination out to as many vulnerable patients as quickly as possible, vaccinating those aged 80 and above first. The vaccination programme will cover patients from four Hatfield GP practices - Burvill House Surgery, Lister House Surgery, Potterells Medical Centre and Wrafton House Surgery – who will be contacted to book in for an appointment.
Professor Quintin McKellar, Vice-Chancellor at the University of Hertfordshire, said: "The University of Hertfordshire remains committed to supporting the national fight against COVID-19. The opening of a new vaccination centre on our campus, in partnership with the NHS, is an important milestone to help ensure those most at risk are protected against the disease.
"I am incredibly proud of how the University has supported the NHS and our community during the pandemic. Our staff and students have worked tirelessly, supporting and caring for the most vulnerable as well as donating health and medical supplies to those working on the frontline.
Now more than ever, it is vital we stay on the front foot and take an active role in minimising the spread of COVID-19 to keep our community safe."
Dr Mark Steward, Clinical Director of Hatfield Primary Care Network said: "Hatfield Primary Care Network is very excited to be doing our part in the vaccination programme to combat the COVID-19 pandemic. We will be working together to get the vaccine to our patients as quickly as we can."
The vaccination programme is the biggest immunisation initiative of our time and Health Education England (East of England) has asked University staff to help the NHS with the roll-out and volunteer. Information on the range of roles available, paid and volunteer, as well as information about how staff can get involved is available on HertsHub*.
More information on the COVID-19 vaccine can be found on the NHS website here.
*HertsHub is the University's staff portal.