Celebrating our scholars, prize winners and donors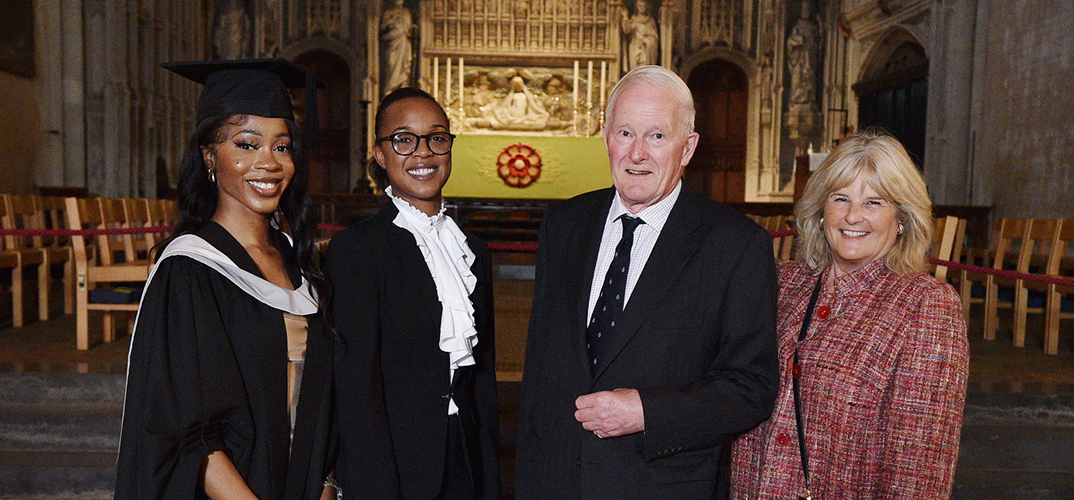 17 September 2021
We were delighted to welcome several of our donors to the recent graduation ceremonies, held at St Albans Cathedral in September 2021, who have collectively and very generously supported over 60 philanthropic scholarships and prizes to University of Hertfordshire students.
Scholarships and prizes can be life-changing for students, reducing financial pressures and enabling them to focus more on their studies. Introducing our donors to the deserving recipients is always a highlight of our graduation ceremonies and it means so much to both parties.
Paying it forward
During the Law graduation ceremony, we had the pleasure of hosting alumna Twanieka Alcindor, LLB, 2010 (pictured 2nd from left), who is one of our most recent prize donors. Twanieka is a highly successful barrister in London, who has also set up a pro bono venture in Brixton entitled 'Lawyers in the Soup Kitchen'.

Whilst studying at Herts, Twanieka received the Judges' Prize, an award generously coordinated for many years by Michael Baker QC. Twanieka explained that she was motivated by the idea of 'paying it forward' and it was a really special moment when she was both introduced to her prize winner and reunited with Michael Baker QC, who has mentored her throughout her career.
We were also delighted to host alumna Lucy Ghawss, who is now the Vice President for the Bedfordshire, Buckinghamshire and Hertfordshire division (BBH) of the Institute for Chartered Accountants in England and Wales, a long-standing supporter of University of Hertfordshire students.
Lucy graduated from Herts with a BA (Hons) Business Management ten years ago and has since trained as an accountant for a local firm. She enjoys giving back to the University by supporting our students with career guidance and financial support through her BBH role.

If you would like to find out more about getting involved and making a real difference to our students' lives please get in touch with the Development Team.