Ambitious alumni entrepreneur secures a £300k grant to develop his biotech business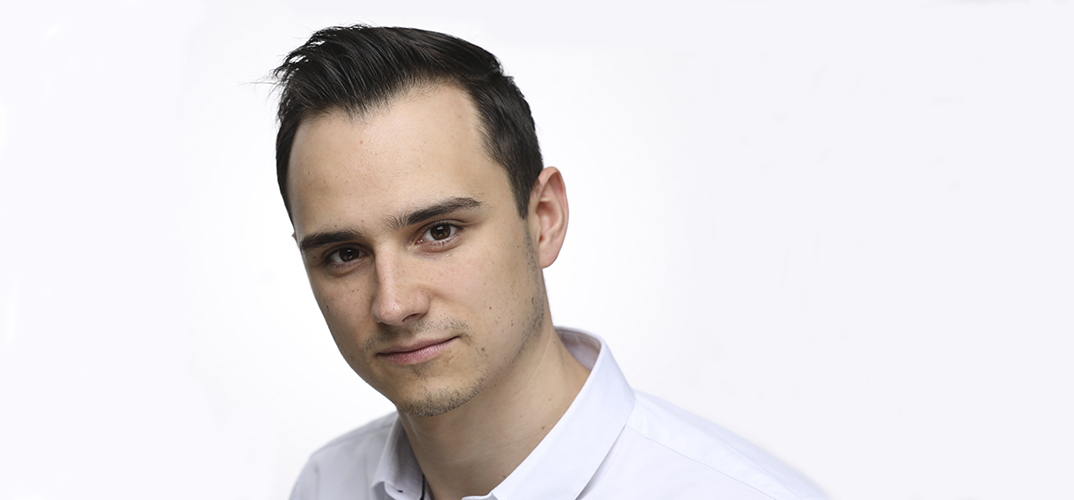 4 August 2021
Heraldas Gaspariunas, (BA (Hons) International Business, 2020), is an entrepreneur who is passionate about developing his business ideas and is committed to embracing new experiences and lifelong learning opportunities.
Entrepreneurial ambition
International Business graduate Heraldas is co-founder and CEO of an early-stage biotech start-up, ACellZ. His company is based on research developed by University of Hertfordshire PhD students and is focused on chemical safety in the eye. In 2021, Heraldas was successful in securing two grants from Innovation to Commercialisation of University Research (ICURe), totalling £50K for market validation of the technology.
After the second round of ICURe, Heraldas secured a further £300k from Innovate UK to support the development of ACellZ and to advance the commercialisation of the technology. Innovate UK drives productivity and economic growth by supporting businesses like ACellZ to develop and realise the potential of new ideas.

"My goal is to grow a successful start-up, where I can continue to learn and improve myself, both personally and professionally. I love working with people to find innovative solutions to problems. I look forward to one day becoming a mentor for others like me within this field."

Heraldas has been nominated to represent the University of Hertfordshire at the Santander X 2021 Entrepreneurship Awards. One of the UK's largest student and graduate business pitching competitions, the programme has 82 new businesses representing universities across the UK. Winning entrepreneurs will be rewarded with mentoring cash prizes.
"The Santander X programme has really helped my professional development. It's an amazing opportunity to support and learn from like-minded entrepreneurs. The weekly workshops have allowed me to learn new skills and supported my growth as an entrepreneur, CEO, and a leader. During Santander X, I was also selected to participate in the 'Founders Up!' project, which documents my journey during and after the Santander X programme via podcasts for future entrepreneurs to see."
A business-facing student experience
"At the University of Hertfordshire, I've not only earned a degree but gained knowledge and skills to run a business, developed my professional and personal life, and received support and direction for my entrepreneurial journey."

Heraldas applied to the University of Hertfordshire to benefit from expert lecturers and the opportunity of studying abroad. He says, "the option of studying abroad for two years during my four-year degree was a huge selling point for me, and after visiting the Hertfordshire Business School facilities and meeting some of the lecturers, I knew Herts was the right place."

"In every country I visited during my study abroad, I met so many amazing people and made long-lasting friendships. I explored new cultures and broadened my understanding of global business, which has had a positive impact on shaping my life aspirations. I studied in Australia for one year, six-months in Norway, and completed an internship with FlixBus in Germany for seven months. If I had to choose one memorable moment it would be jumping out of a plane and swimming with turtles in Australia."
Embracing opportunities for Herts graduates
"Since embarking on my entrepreneurial journey I have benefited a lot from the support given to me by the University of Hertfordshire. My first graduate job was as a Business Associate through a Santander internship with a company called ImmuONE, which I applied for through the University's Careers and Employment Service.
ImmuONE is a spin-out company from the University based on PhD research. This led me to meet some amazingly talented people and kick-started the opportunity for me to establish ACellZ."

"It was also the Careers and Enterprise Team who put me forward for the Santander X awards and they supported me with preparations for my ICURe pitch. In July 2021, I joined the University's Business Incubator to further learn from like-minded entrepreneurs."

"A love for learning and personal development does not necessarily come from knowing what you want but believing it will benefit you in reaching your dreams someday. Getting to this point has required hard work, persistence, and a willingness to go outside my comfort zone."

Check out Heraldas' blog article, '6 effective ways to overcome setbacks.'
More about Heraldas' company, ACellZ
Harnessing technology that empowers a better understanding of chemicals safety in the eye, ACellZ manufacture grown-in-the-lab human eye tissue models to screen chemical substances with the aim to implement solutions to promote animal-free alternatives and support the movement toward human-relevant systems in testing.