Alumnus looks to connect gym goers through new app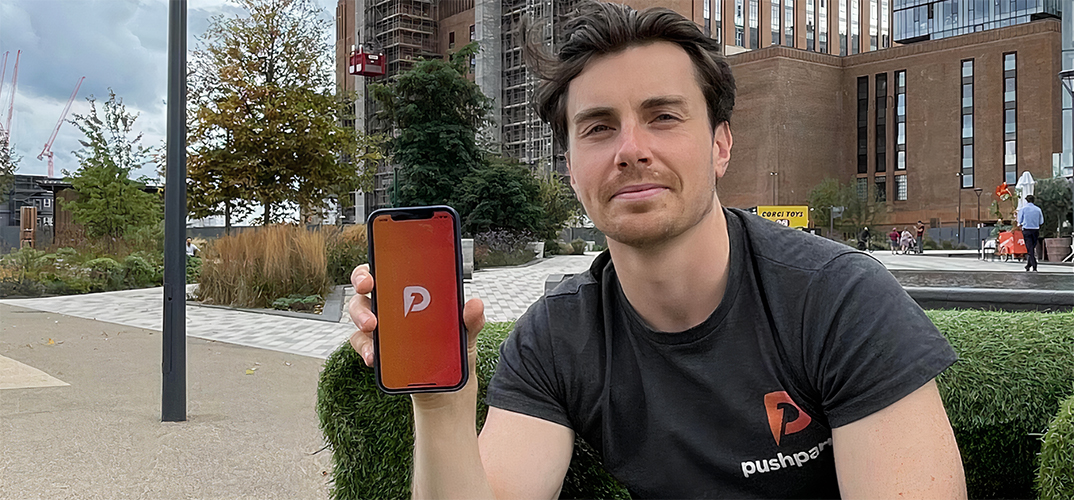 18 October 2021
With an entrepreneurial and pioneering spirit at its core, the University has long been a hotbed of great new ideas. George Molyneux (BA (Hons) Business Studies, 2016) tapped in to this and has come up with an idea that he hopes will help people get more out of their visits to the gym.
New app
Push Partner is a fitness and social networking app designed to connect people with workout partners. As George says:
"The original concept of Push Partner came to me when I was in the gym one evening. After surveying the environment, I couldn't help but notice that many of the fittest people in the gym were also those that had support from other gym members. However, gyms can be intimidating places, with extremely high social barriers. And so, as a self-proclaimed introvert, just going up and asking someone for assistance was about the scariest thing I could do!
"I turned to my phone, looked for websites and apps that connected people with workout partners, but I couldn't find anything. This was my "Aha!" moment and I haven't looked back since. I conducted a soft launch in March, which was a great opportunity to gain further feedback and it allowed me to update the app to make the business more scalable."
Next steps
George is very positive about what the future holds for him and his business. He says: "Although the app is available nationally, I've focused much of my marketing in and around my local area in South West London. I'm now ready to begin expanding into more areas.
"I also network with local personal trainers and invite them to join the Push Partner network (we have bespoke PT profiles that allow them to find new clients). Many of them write guest articles to educate other users.
"I spend my energy creating new networks and opportunities, looking to work with nutritional and fitness related organisations.
"My own ambitions are tied closely with Push Partner's vision and mission. I want to change the way we exercise; putting an emphasis on the importance of workout partners.
"I believe people are the best at helping other people. One day, I want to be able to walk into any gym and see people exercising together instead of alone, all because of Push Partner."
Time at Herts
When talking about his time at Herts, George says: "I have only ever wanted to work for myself. However, I never knew where my journey would start.
"The Business Studies course provided me with a general understanding of what it takes to start a business. The most important aspect of it was the combination of psychology and business, which improved my understanding of how people work and how I, as a leader, can create an environment that helps my team reach their potential."
Support for your new business
If you have been inspired by George's story and have a great idea, see how the University can best support you.