Alumni receive Honorary Doctorates at September ceremonies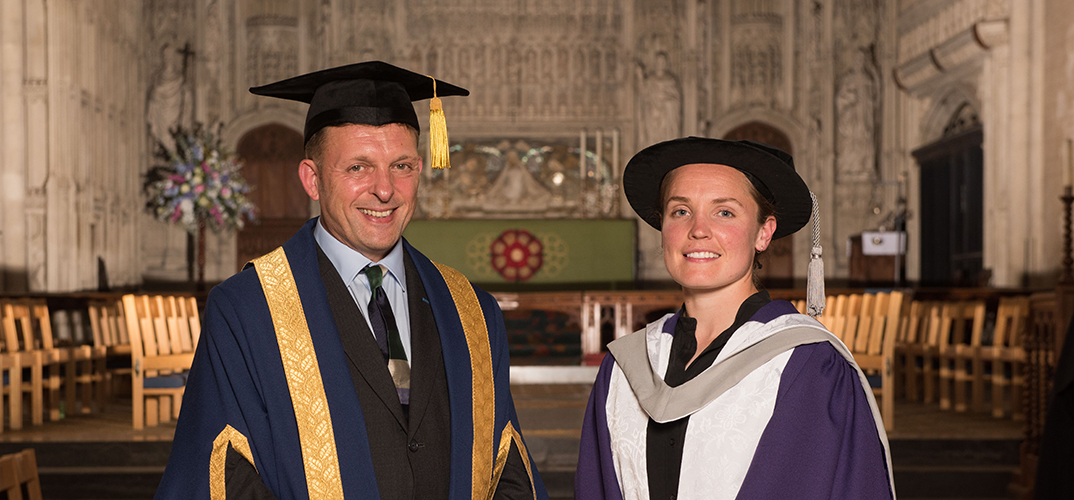 20 September 2021
At the University of Hertfordshire's September 2021 Graduation Ceremonies, we were delighted to award four of our alumni an honorary doctorate for their achievements in their respective fields.
Kim Little, BSc (Hons) Sports Studies, 2011
Professional Footballer – Arsenal, Scotland and Team GB
Kim Little joined Arsenal at the age of 17. Her talent and dedication were evident, and she won a sports scholarship to study at the University of Hertfordshire while she was playing with Arsenal.
With more than 200 appearances for Arsenal to date, her contribution has seen the team win numerous titles, including the Premier League Championship (twice), the FA Women's Super League (three times), the FA Cup (twice), the Premier League Cup and the WSL Cup (four times). Kim also played internationally for Scotland and was one of the three Team GB captains at the Tokyo Olympics.
Kim is a brilliant role model for women in sport, and her contribution has been recognised through the many awards she has personally received over the years, including the FA Women's Football Awards Players' Player of the Year in 2010. She was the first-ever recipient of the Professional Footballer's Association Women's Player of the Year Award in 2013, the National Women's Super League's Most Valuable Player in 2014, and Women's Footballer of the Year in 2016.
'It feels quite special to receive my honorary doctorate ten years on from graduating here in 2011. The University provided me with an opportunity to start my career as a professional footballer (for Arsenal) alongside studying. An opportunity which on reflection many years on, grounded me and provided me with a balanced outlook to life. My passion and drive for both high performance and continuous learning has provided me with a balanced perspective which helps me through uncertainty, change, and challenges.'
Simon McNamara, Postgraduate Diploma in Computer Science, 1984
Chief Administrative Officer – Royal Bank of Scotland
Simon has made an enormous contribution to the global financial industry over the last 35 years, in several key roles. He has held senior information technology and operations positions for prestigious financial organisations all over the world. Simon's current role is as Group Chief Administration Officer at the Royal Bank of Scotland, a post he has held since 2013.
'I am incredibly happy, humbled, and proud to receive this honorary doctorate. The University creates courses that think outside of the box, and recognises hunger, talent, and commitment in its students. Meeting and spending time with a great collection of people with the same passion, the same energy for the topic, people you can learn from, debate with, experience new things together, and of course have a great time with, gave me a grounding and rounded experience. The importance of that can sometimes be underplayed, put down to friendship and fun, but it's a crucial part of learning.
The course gave me the keys to a career and unlocked the opportunity to explore the world, giving me the chance to work anywhere on the planet. The one thing that ties Hertfordshire alumni together is our shared belief in lifelong learning. The continual desire to learn more, know more, listen more, and be more, is something I learned here at Herts.'
Dr Stuart Clark, BSc (Hons) Astronomy with Physics,1991 & PhD Astrophysics, 1999
Celebrated astronomer, author and journalist
Stuart graduated from the University of Hertfordshire with a first-class honours degree in Astronomy with Physics. He then stayed on at Hertfordshire to obtain his PhD in Astrophysics. He subsequently joined the faculty at the University as Director of Public Astronomy, while continuing his research into star formation, planetary habitability and the origins of life. In a 1998 paper for Science magazine, he put forward the paradigm that he had helped to develop, that life on Earth has developed from left-handed amino acids, which has had tremendous impact on the understanding of the origins of human life.
In August 2000, the Independent newspaper named Stuart as one of the 'stars' of British astrophysics teaching, alongside Professor Stephen Hawking and Professor Sir Martin Rees.
Stuart stayed at the University of Hertfordshire until 2001, when he joined the communications team at the European Space Agency, eventually becoming senior editor for its €500m/year space science programme. Stuart now spreads his time between writing and cosmology consultancy, for publications such as New Scientist and the Guardian, and appears on a number of BBC television and radio programmes.
'On a school trip to Bayfordbury when I was just 11, my future lecturer was the first person who showed me the night sky through a telescope. As an undergraduate student, that same person taught me at the University, and I felt so inspired by him. I learned to love and know my subject, and to pursue the things that I found interesting, as it's where I would do my best work. Something that will stay with me forever, is that the University, particularly the astronomers who worked here, they believed in me. And there are no words that can deeply express how honoured I am to receive this award.'
Sarah Beazley, PGCE and ProfGCE in Primary Education, 2012
High Sheriff of Hertfordshire (2019-20)
Sarah held the post as High Sheriff of Hertfordshire in 2019 and her theme for her term in office was building stronger communities. She was keen to build on her links with the University of Hertfordshire, as its value of engaging with the community was one that dovetailed beautifully with her own objectives.
Sarah was able to support the development of the University's Law Clinic which offers free legal advice to Hertfordshire residents, while providing real-life experience for the students, enabling them to practise and develop their skills. The University was delighted that the Law Clinic received two awards at the Law Works Attorney General Pro Bono Awards in 2020.
'I could not be prouder to be associated with the University of Hertfordshire and with the Law School in particular, and I will continue to support their work in the future. To graduates: you set yourself a goal, you worked hard, you stuck to the plan, and you tasted success and achievement as a result. Your life is your story. It will contain many chapters, plot twists, lots of characters, perhaps some drama, and a huge range of emotions. As you write your story, prepare well.
Be open to opportunity. Have a plan but be positive about plan b if you need to and be a little self-knowing along the way. Don't compromise on happiness and surround yourselves with those that bring out the best in you. You have so much to look forward to as you write your story. Make it a great read.'