National Student Survey 2016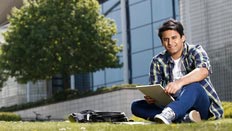 The University received a high rating of overall satisfaction in the latest National Student Survey 2016 (NSS):
82% overall satisfaction rating.
Hertfordshire is among the top universities for its high student satisfaction levels with scores of:
88% for learning resources.
83% for personal development.
Opinions
The NSS gathers opinions from final year students on the quality of their courses and their time at university. It provides feedback on what has been good and what can be done to improve students' experiences.
The 2016 NSS at the University of Hertfordshire had a response rate of 74% (up by 2% from 2015).
Improving NSS scores
The NSS is divided into 6 sections and compared to last year, as an institution, student satisfaction scores were up in the following areas:
73% - Organisation (up from 72%)
70% - Assessment (up from 69%)
Above the sector
Scores for Resources remained high at 88%, keeping it in the top quartile and above the sector.
The Students' Union also retained a high satisfaction score of 74%. This puts it in the top quartile for satisfaction and 4% above the sector overall score.
Exceptional courses
100% overall satisfaction rating was received for the following University of Hertfordshire courses:
99% was given to BEd (Hons) Bachelor of Education Honours Degree Primary
90% and above was given to a further 14 courses.
More about National Student Survey
The National Student Survey (NSS) is a national initiative, conducted by Ipsos MORI annually since 2005.
The survey runs across all publicly funded Higher Education Institutions (HEIs) in England, Wales, Northern Ireland, and Scotland, as well as other providers of higher education.
Aimed at final-year undergraduates, it gathers opinions from students about their experience of their courses, asking them to provide honest feedback on what it has been like to study on their course at their institution.
Continued success
"
There are some terrific examples of Hertfordshire courses receiving positive feedback in this year's NSS.

It's also pleasing to note that our students have rated the University's learning resources among the best in the country and have scored us highly on supporting their development. This, combined with the fantastic rate of employment for Hertfordshire graduates, is a reflection of the University's efforts to get students ready for successful careers in their chosen fields.