We've won a prestigious global audio visual award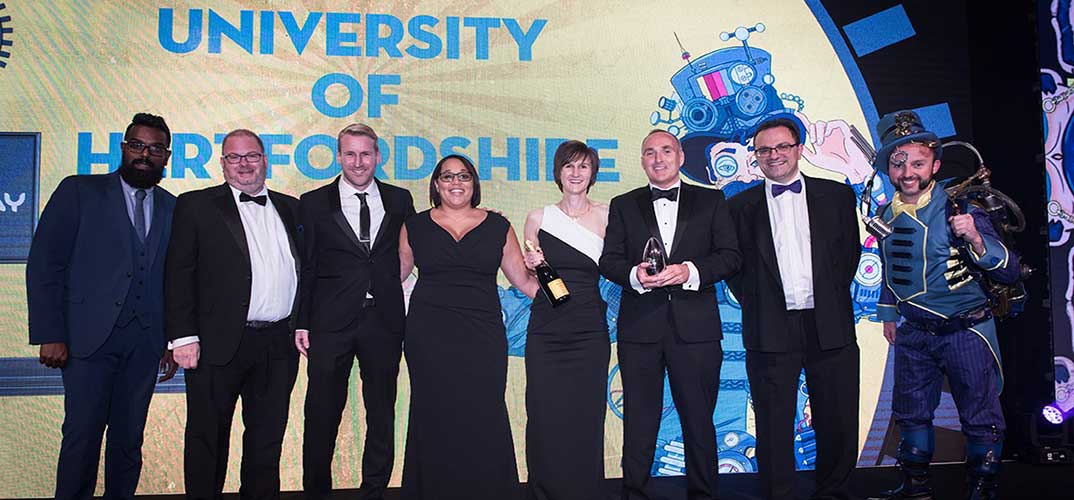 4 October 2018
The Events, AV & Digital Media team at the University of Hertfordshire has scooped up one of the most prestigious global awards - The AV Service Team of the Year - at the AV Awards 2018.
Stand-up comedian and actor, Romesh Ranganathan presented the team with the award at a ceremony at the Grosvenor House Hotel in London on 28 September.
Lucy Bolton, Head of Support, Library and Computing Services at the University, said: 'We are delighted to receive this award. We beat strong international competitors to win this award and I am extremely proud of the team. This success is a culmination of all of their hard work.'
Stephen Bell, Support Manager, Events, AV & Digital Media at the University, said: 'This is the biggest award in our industry and we are delighted to have won it, beating fierce competition from major global teams. We are committed to excellence in delivering bespoke packages and supporting our clients' events and productions to ensure they achieve their desired outcome.'
Graduation ceremonies
The team provides live event support for the University of Hertfordshire's annual graduation ceremonies which take place over 11 days at St Albans Abbey. Each of the 17 ceremonies is video recorded with streams and downloadable footage, covering 4500 students. Each ceremony is also live streamed across 22 screens throughout the Abbey to ensure a perfect view for all guests and students.
In addition, the University's Events, AV & Digital Media team can help with designing stage sets, lighting and event production and video creation to support new external website content.
Excellence in the Audio Visual industry
Now in its 20th year, the AV Awards were established to reward excellence across the Audio Visual industry. The Awards recognise best practice in the industry, and rewards excellence and innovation. It is an international event that generates over 500 entries from more than 35 countries.
Please note that some of the images and videos on our news pages may have been taken before social distancing rules in the UK came into force.