We're helping the US Government develop new guidance on decontamination following chemical attacks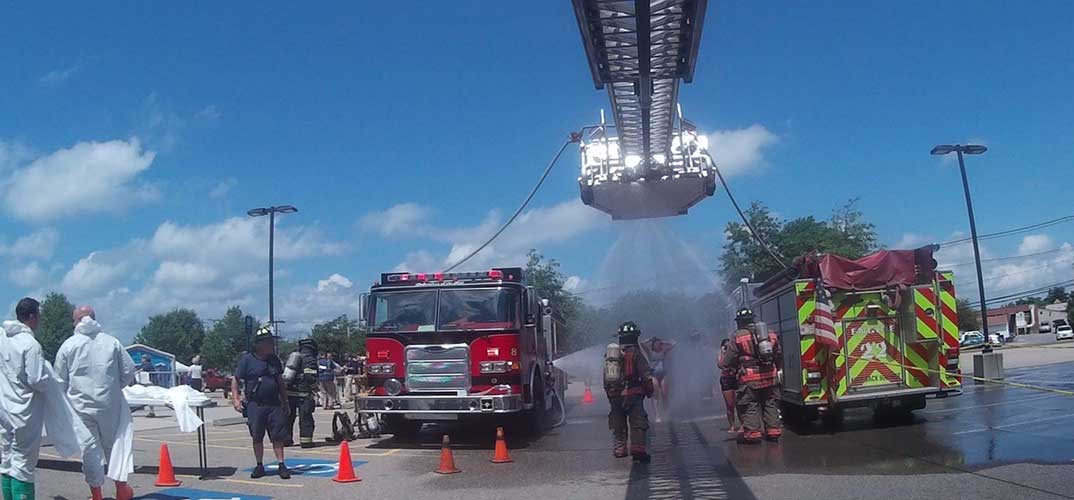 18 October 2018
The findings of a world-leading study into the most effective decontamination process following a chemical attack, led by Professor Rob Chilcott of the University of Hertfordshire, has led to the development of new guidance that will significantly enhance the effectiveness of first responders.
The study was commissioned by the Biomedical Advanced Research and Development Authority (BARDA) to evaluate the clinical and operational effectiveness of US federal government guidance (Primary Response Incident Scene Management - PRISM) for the initial response phase to chemical incidents. As part of the study, Professor Chilcott's team performed a large scale exercise where more than 80 volunteers were dosed with a chemical warfare agent simulant to quantify the efficacy of different forms of decontamination.
Results of the study
The results of the study, which were published in the peer-reviewed journal Annals of Emergency Medicine, show for the first time that 'dry contamination' can be successfully integrated into the emergency incident response. The paper suggests that the most effective decontamination methods start by disrobing followed by a triple combination of dry, 'ladder pipe' and technical decontamination as the standard approach.
The initial 'dry decontamination' involves rapidly wiping down the victim with any absorbent material (toilet paper, paper towels, or materials typically carried on an ambulance, such as wound dressings) and does not rely on specialist resources. Dry decontamination enables first responders to reassure victims, start providing instructions and offer situational information.
The next process is the 'ladder pipe' system of decontamination which involves the victims of chemical exposure passing through a corridor between two parallel fire engines and being spraying with water from a hose strapped to an overhead ladder. In the past, this procedure was occasionally performed on fully-clothed individuals. The guidelines have now been updated to emphasise the need for disrobing prior to any form of wet decontamination. A third step, 'technical decontamination' involves specialist units, privacy, warm water and waste containment.
Adding the new disrobe and dry procedure enables more effective time management and allows first responders to fully utilise the critical window of opportunity to remove toxic chemicals from hair and skin of casualties while setting up ladder pipe and technical decontamination units.
Better communication strategies
The study also found that first responders to major chemical incidents can improve treatment protocols for at-risk casualties with better communication strategies. 'Should a large-scale chemical exposure occur, clear communication from first responders can save lives by speeding up the decontamination process and reducing toxic exposure, especially for children, older people and the most vulnerable victims,' said Professor Robert Chilcott from the University of Hertfordshire.
More information about the exercise is available in this video.
Please note that some of the images and videos on our news pages may have been taken before social distancing rules in the UK came into force.