Professional Doctorate in Education keynote address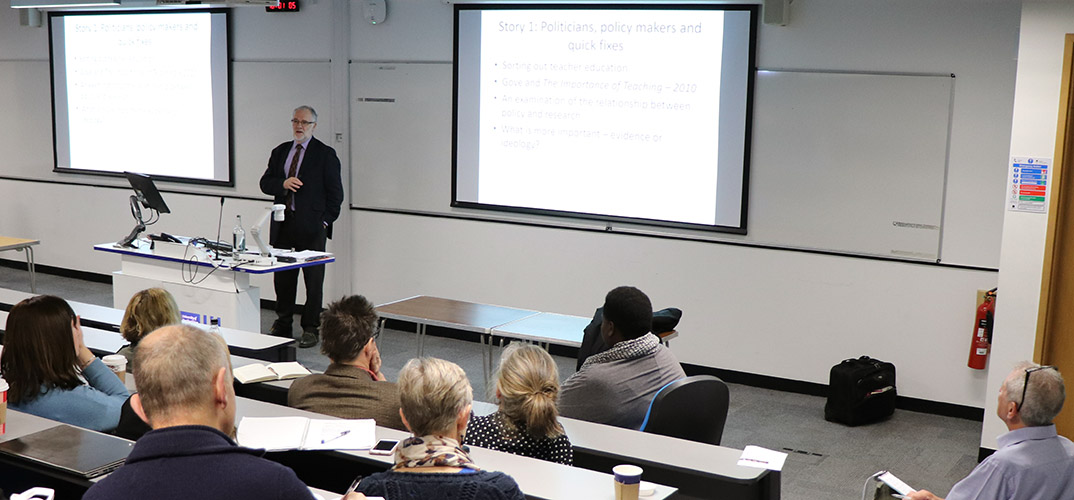 5 December 2018
On Friday 23 November Professor Ian Menter, Emeritus Professor, School of Education, University of Oxford, was the first keynote speaker for professional doctorate students, supervisors and a range of other academics from across the University.
The title of Professor Menter's address was Educational research in an age of uncertainty - the dangerous allure of snake oil. His comments took a sceptical look at the way in which successive governments, both here in the UK and across the world, have attempted to reduce education so that it can be 'deliverable', measurable and neatly packaged – often for the benefit of those in pursuit of profit.
His keynote had great resonance for the education professionals in the audience who came from all sectors, including HE, where the need to produce and demonstrate value for money now mirrors trends that have beleaguered schools for the last two decades. Colleagues from Shanghai who are visiting the UK as part of the EdD programme also recognised the issues.
In the afternoon Tamsin James, Head of Policy at the University of Hertfordshire, addressed the group using the title Is this normal? The impact of our politics on HE policy and used this as an opportunity to prompt discussion about the way in which national and global education policy has an effect on the conduct of universities and, by definition, the research students who work in them. Much of what she had to say developed the themes of the conflict between genuine learning and the production of 'outcomes' identified in the morning session.
The day was an excellent opportunity for all EdD students, from both the UK and Shanghai, to consider the place of their research in the wider political and economic circumstances in which we find ourselves – and to reflect on how these affect the conduct and outcome of our research.
Find out more about research in the School of Education.
Please note that some of the images and videos on our news pages may have been taken before social distancing rules in the UK came into force.