Our world-leading STEM research has been recognised in UK's 'Best Breakthroughs List'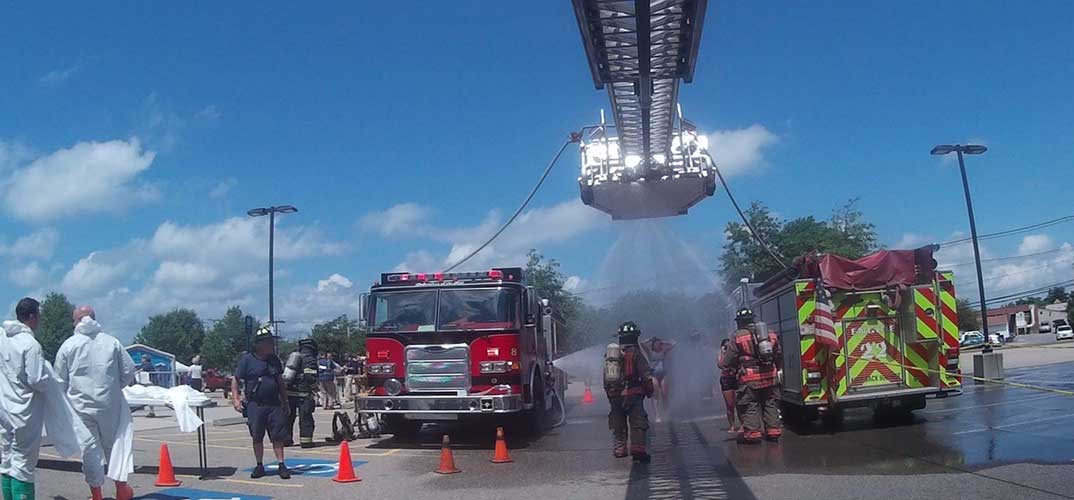 6 December 2018
University of Hertfordshire research into decontamination techniques following chemical attacks has been named as one of the UK's 100 best breakthroughs for its significant far-reaching impact. The UK's 'Best Breakthroughs List: 100+ Ways Universities Have Improved Everyday Life' has been launched today by Universities UK (UUK), the umbrella group for UK universities.
Professor Rob Chilcott, Head of Toxicology at the University of Hertfordshire, is honoured in the UK's 'Best Breakthroughs List' for his team's pioneering work studying the science of decontamination processes and translating the evidence into clear policy guidance for use by emergency services.
As part of Professor Chilcott's research, commissioned by the US Department of Health and Human Services, his team performed a large-scale exercise where more than 80 volunteers were dosed with a chemical warfare agent simulant to gauge the efficacy of different forms of decontamination. The results of the study, which underpin new operating principles for the Initial Operational Response for emergency services, found 99.9% of chemical contamination can be removed by a new incident response process.
'Best Breakthroughs List'
UUK has released today's 'Best Breakthroughs List' as part of its MadeAtUni campaign to change public perceptions of universities and bring to life the difference they make to people, lives and communities across the UK. The list of breakthroughs demonstrates how UK universities are at the forefront of some of the world's most important discoveries, innovations and social initiatives.
Professor John Senior, Pro Vice-Chancellor for Research and Enterprise at the University of Hertfordshire said: 'I am extremely proud of Rob and his team; this research is an example of the impactful, innovative and multidisciplinary research which takes place at the University of Hertfordshire.
'As a leading business-facing University we pride ourselves on creating and developing ideas, products and processes to meet future demands of business and society. The legacy of the bespoke research facility created through Rob's research is novel research in wider fields, including forensics, drug testing and non-invasive clinical diagnostics.'
'Universities really do transform lives'
Professor Dame Janet Beer, President of Universities UK, said: 'Universities really do transform lives. The technology we use every day, the medicines that save lives, the teachers who inspire – all come from UK universities and the important work being done by academics.
'The UK's 'Best Breakthroughs List' is a testament to the difference that universities make to people's lives and we want everyone to join us in celebrating the work they do.'
The UK's 'Best Breakthroughs list: 100+ Ways Universities Have Improved Everyday Life' was put together in partnership with universities across the UK. As part of the MadeAtUni campaign, every university in the country was invited to nominate the one thing from their institution which they believe has had the biggest impact on people, lives or communities. Over 100 universities submitted a nomination. The entries cover health, technology, environment, family, community, and culture and sport.
Please note that some of the images and videos on our news pages may have been taken before social distancing rules in the UK came into force.