Our Vice-Chancellor calls for an increase in graduate numbers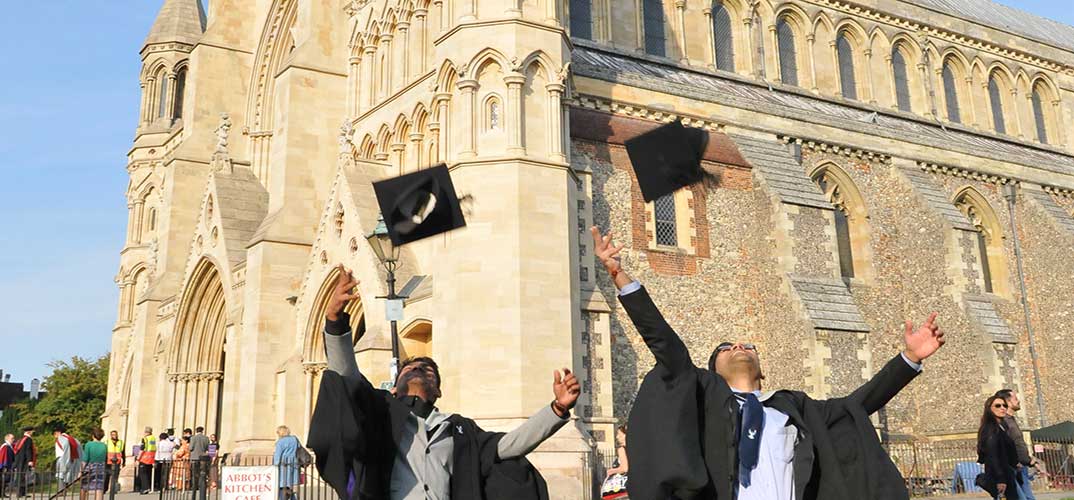 22 October 2018
Although the target of getting 50% of young people to university has been widely criticised, Professor Quintin McKellar CBE, Vice-Chancellor at the University of Hertfordshire, believes that this is not nearly enough.
On Wednesday 24 October, Professor McKellar will deliver his annual lecture - 'Graduates: The more the merrier' – where he will argue that the joy of learning should be widely shared and that we should be aiming for many more young people in higher education.
The Productivity Gap
Worldwide population growth and ambition are leading to hunger for higher education, with the leading economies rapidly increasing their graduate numbers. In his speech, Professor McKellar will discuss the 20% productivity gap which currently exists between the UK and the US and Germany, revealing how higher graduate numbers directly correlate with increased productivity. He will also explore how technological change will have a huge impact on work in the coming years. Higher-skilled jobs requiring creativity, problem-solving and critical thinking which cannot be easily fulfilled by robots and AI, will remain. As such the UK will need graduates who can best utilise these technologies – not just in STEM, but from the Arts as well.
Professor Quintin McKellar said: 'We need to educate and upskill a much bigger percentage of the population if we wish to become internationally competitive and I believe that the University of Hertfordshire can be an architect of this future. The wide range of courses we offer embrace practical skills requirements, while staying true to the more fundamental attributes of knowledge acquisition and critical thinking.
'Our students are taught in simulated working environments and are given the opportunity to learn disciplinary skills, make lifelong friends, explore new cultures and open their minds to the infinite possibilities that the future holds.'
Event details
The 2018 Vice-Chancellor's Lecture on 24 October will be held at the Weston Auditorium, de Havilland Campus,18.30 – 20.30. It is free to attend and you can book your place via phone 01707 284121 (during office hours) or email events@herts.ac.uk.
Please note that some of the images and videos on our news pages may have been taken before social distancing rules in the UK came into force.