New partnerships bolster professional training in the East of England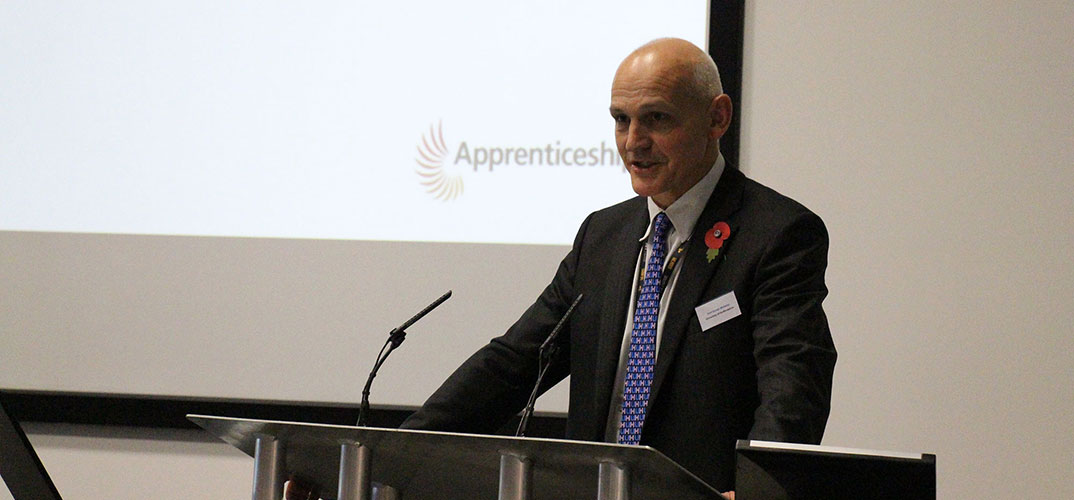 1 November 2018
The University of Hertfordshire has announced partnerships with over 40 businesses, as this year's Degree Apprenticeships get underway. With more than 200 Degree Apprenticeship students on 14 expert courses, the University of Hertfordshire is a key Degree Apprenticeship provider in the East of England.
The University's expansion of Degree Apprenticeship programmes has been driven by increasing demand from employers, helping them to draw on their apprenticeship levy. Additionally, there are eight new Degree Apprenticeship programmes currently being developed which will be available in 2019.
The University is partnering with leading multinational and blue chip businesses, including Airbus, Epson and MBDA, whilst also being one of the UK's leading education providers for public sector Degree Apprenticeships – working with local government and NHS partners in the region.
On Wednesday 31 October the University's Vice-Chancellor, Professor Quintin McKellar, welcomed around half of the employers currently working with the University at a briefing event. Speaking at the event, Professor McKellar said:
'Increasingly employers are recognising the opportunities that apprenticeships offer in supporting the development of their workforce. Many of the organisations here today are leading the way in helping to shape the future of higher education; by partnering with us, we can deliver courses that give graduates essential professional skills for the modern workplace and global business environment. And our recent gold award for teaching excellence gives you the confidence that your degree apprentices are receiving the best possible higher education experience.'
The event attracted employers from a range of industries including travel, global distribution, automotive engineering, aerospace, motorsport, healthcare, pharmaceutical device design, software solutions, alongside representatives from charities, schools, the NHS and local government. Employers were given the opportunity to network, tour the campus and find out more about the roles and responsibilities associated with apprenticeships.
Rob Waudby, Design Engineer, SWR Motorsport said: 'We've just engaged an engineering apprentice who has been on board with us for a month now. As his mentor, I can say that while it is still early days, we've found the programme great for him and for our business. He's been able to learn a lot of new things throughout his university course that he wouldn't have learned on the job, and likewise he is learning a lot on the job that he can apply back to his studies.'
Please note that some of the images and videos on our news pages may have been taken before social distancing rules in the UK came into force.