Building work begins after University breaks new ground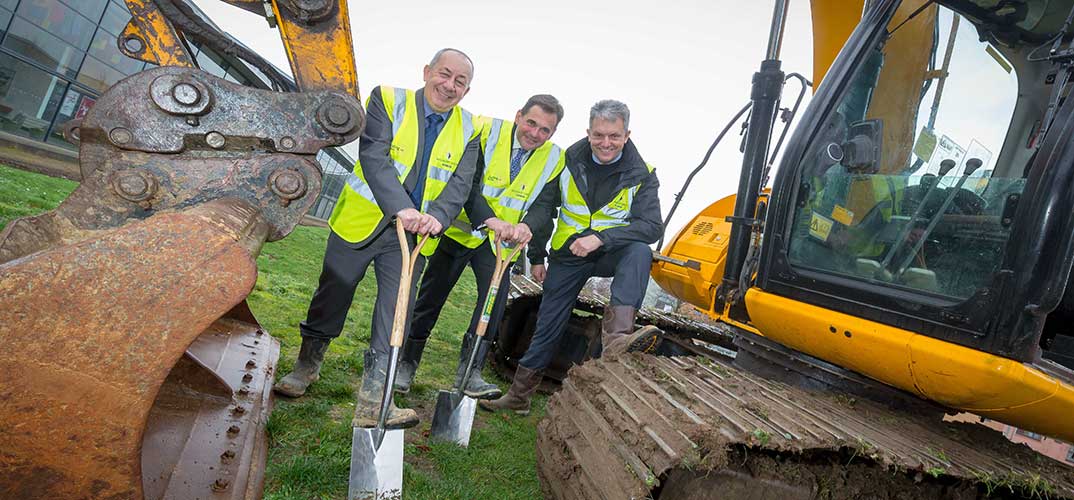 6 December 2018
The University of Hertfordshire's Deputy Vice-Chancellor Ian Campbell has recently (Wednesday 5 December) broken the ground where a new building will tangibly link education, entrepreneurship, apprenticeships and social facilities at the University's de Havilland campus.
The construction project, which has been part-funded by the Hertfordshire Local Enterprise Partnership, will create a three storey building that will provide learning, social and business facilities at the heart of the University's de Havilland campus in Hatfield.
Deputy Vice-Chancellor Ian Campbell said: 'Our new building will significantly enhance and extend the support the University provides its degree apprenticeship employers and learners, enterprising graduates and local entrepreneurs and is part of our commitment to ensure our students are given the best possible learning and social experiences through state-of-the-art facilities, equipment, teaching and social spaces.
'By creating social spaces where our entrepreneurial students can mix with business professionals we are helping them to create networks which will help their businesses to success and give professionals a chance to tap into new entrepreneurial talent.'
The business and social hub will be constructed by Wilmott Dixon and is due to be completed in 2020; it will include:
A ground floor social space, delivering both formal and informal spaces, encouraging collaboration and communication between students, staff and the business community.
An area dedicated to Business Incubation on the first floor, which will provide a designated focal point to support our University as an Incubator project where we have made available the entire University Campus to local start-ups and entrepreneurs who are able to use our facilities, rooms and resources and have been mentored to create self-supporting communities of practice.
A new teaching space for students, including Degree Apprentices and MBA students.
Hertfordshire LEP has invested £2.5m from the Local Growth Fund towards the construction of the building as part of its strategic priority to support business growth and innovation within the county.
Adrian Hawkins, Deputy Chair of Hertfordshire LEP said: 'Small enterprises form the backbone of Hertfordshire's business community. Our £2.5m funding towards the construction of a new Business Hub is an investment in their future growth and prosperity, giving start-ups access to a world-class University with a reputation for championing entrepreneurship.'
The Minister for Local Growth, Jake Berry MP, said: 'We are committed to boosting economic growth across the whole of the UK and building a Britain fit for the future.
'Degree apprenticeships play an important role in helping people to reach their full potential, whatever their background, so I am delighted this £2.5 million investment from the Local Growth Fund will help provide new teaching, social and business facilities at the University of Hertfordshire. This will make a vital contribution to Hertfordshire's economy, strengthening links between the University, students, and the local business community.'
Please note that some of the images and videos on our news pages may have been taken before social distancing rules in the UK came into force.