University team produces face shields for NHS and social care using 3D printers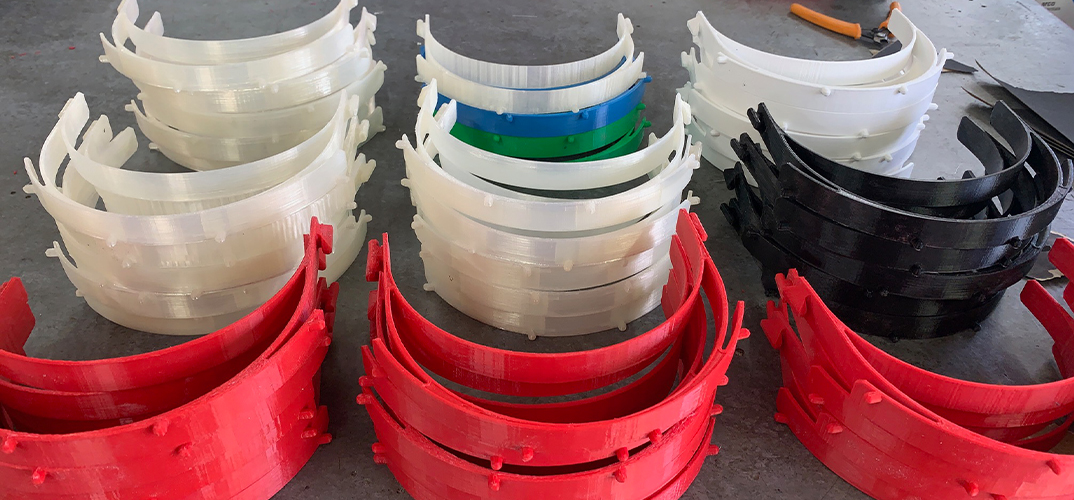 17 April 2020
A team at the University of Hertfordshire has produced face shields using 3D printers in response to demand from NHS and social care services. These have now been donated to the Hertfordshire County Council team coordinating the county-wide COVID-19 response effort.
The shields will be used by frontline staff to provide additional protection when treating COVID-19 patients. They cover a person's face, shielding them from splashes, coughs or sneezes from patients.
With the move to online teaching, technical teams from across the University redirected their expertise to design and produce the face shields for frontline staff after seeing media reports about a national shortage.
Teams from the University's School of Engineering and Computer Science, School of Physics, Astronomy and Mathematics, School of Creative Arts and School of Life and Medical Sciences joined forces on the project. The cross-departmental team sourced sixteen 3D printers from across the University and collaborated on the design and production. They then made the donation to Hertfordshire County Council.
The team used 3D printers to layer Acrylonitrile Butadiene Styrene (ABS) to create a Prusa design. They then added an acetate sheet to create the transparent shield.
Face shields are in high demand and with further donations planned, staff continue to work around the clock to meet demand.
Rodney Day, Dean of the School of Engineering and Computer Science, Physics, Astronomy and Maths at the University of Hertfordshire, commented: "It's heartening to witness the energy and capability of our teams in responding to a national need. This demonstrates the commitment of our staff in helping to keep our vital NHS and social care workers safe."
Phil Healey, Dean of the School of Creative Arts, commented: "This is an excellent example of how creative design skills can be used to produce practical equipment to help in the battle against the virus. I'm proud of the commitment of technical colleagues in the School using their expertise to help respond to the national emergency."
Councillor Tim Hutchings, Cabinet Member for Public Health and Prevention at Hertfordshire County Council, commented: "Having already supported us in the production of hand sanitisers I am immensely grateful to The University of Hertfordshire for continuing to show its determination to go above and beyond in helping protect our frontline health and care staff by now providing face shields. These face shields can be important in situations when patients are coughing or need close personal care and will protect crucial health and social care staff from infection."