Visions Film Festival returns for 10th anniversary event screening 2019's graduating students' films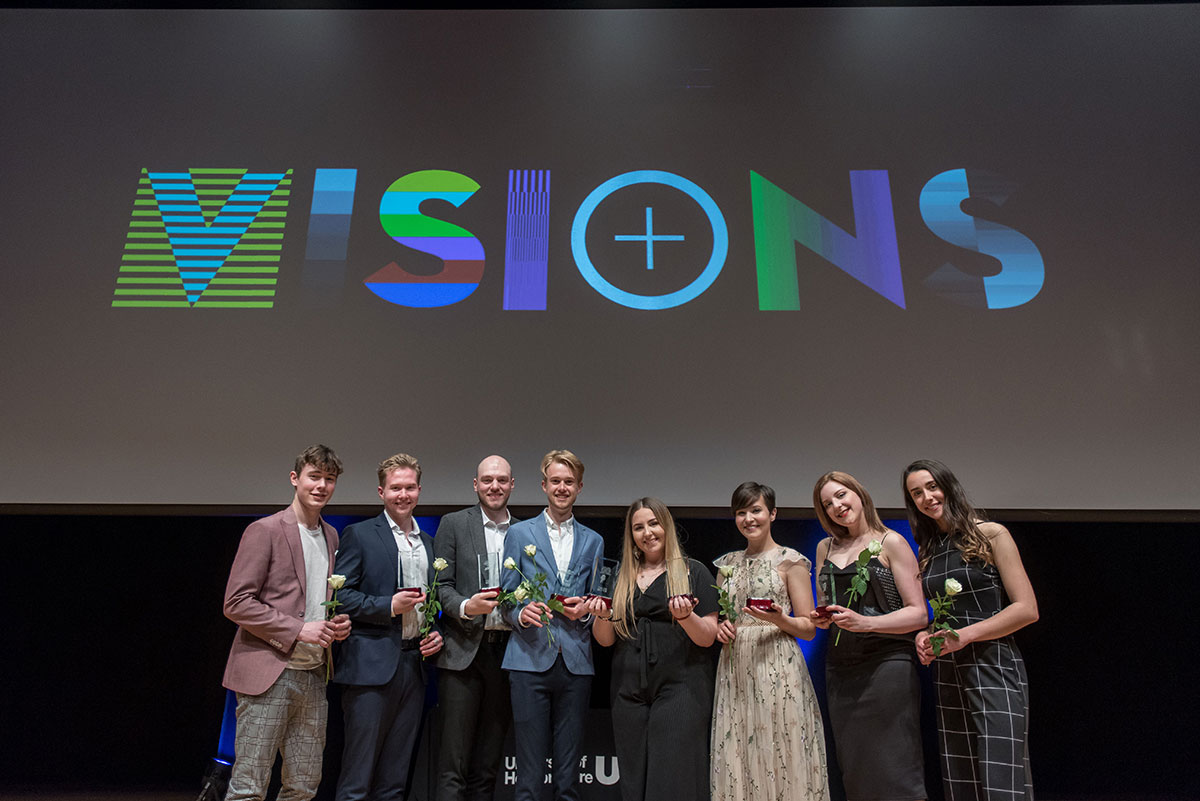 23 May 2019
The University of Hertfordshire's Visions Film Festival returned for its tenth consecutive year yesterday, showcasing the best Film and Television Production graduate films.
The run-away winner of the night was Caterpillar, which also won student Hannah Spary the Director of the Year and Individual Achievement awards.
The premiere screenings of the students' final year films included a variety of film and TV genres, including drama, documentaries and entertainment shows.
The student awards were judged by representatives from the film and TV industry. Guests from Elstree Studios and the Stanley Kubrick Estate, long-term sponsors of the event, were among the industry guests in the audience.
This year's students have gone the extra mile to produce powerful work, from travelling to America to film sequences on location at a cave in West Virginia, to shooting at legendary film-maker Stanley Kubrick's Hertfordshire mansion. We wish our graduating students the very best of luck in their future careers.
Chris Chandler
Joint Head of Film and Television, University of Hertfordshire
The BFI Award for Innovative Research in Film and TV went to Georgia Conyers
The Elstree Studios Award for Achievement in Editing went to Rachel Johnstone
The Lord Lew Grade of Elstree Award for Individual Achievement went to Hannah Spary
The Mark Milsome Award for Achievement in Cinematography went to Jake Bentley
The Val Kuklowsky Award for Achievement in Sound Recording went to Adriane Wong Shiao Xian
The AVID Award for Achievement in Sound Post-Production went to Daniel Vidmar
The Mike Newell Award for Achievement in Directing went to Hannah Spary
The Production Guild Award for Production Management went to Isabelle Cunningham
The Sam Snape Award for Achievement in Scriptwriting went to Hakon Jorgenson
The Kubrick Prize for Cinematic Storytelling went to Caterpillar
The Screenskills Audience Choice Award went to Lola
The StudioCanal Film of the Year Award went to Caterpillar
The Warner Bros. Studios Leavesden Award for Achievement in Production Design went to Aurora Harris
2019 sees the posthumous dedication of the Achievement in Cinematography Award to Mark Milsome, a celebrated camera operator whose father Doug Milsome has worked with the University's film and television students for many years.
Visions Film Festival is part of the University of Hertfordshire's Creative Attraction season, which celebrates the innovative work of over 400 graduating students from across the Creative Art School's undergraduate courses. Other highlights include the Degree Show, which showcases the best work from the School of Creative Arts' graduating students; the renowned Animation Exposé, which is attended by key industry employers; Sonic Herts, the annual eclectic music festival; and the Graduate Fashion Show, which takes place in London's Chelsea Old Town Hall and showcases collections designed by 2019's talented fashion graduates.
You can find out more about Visions 2019 and other events in the Creative Attraction programme at: https://degreeshows.herts.ac.uk/