University of Hertfordshire student named New Designer of the Year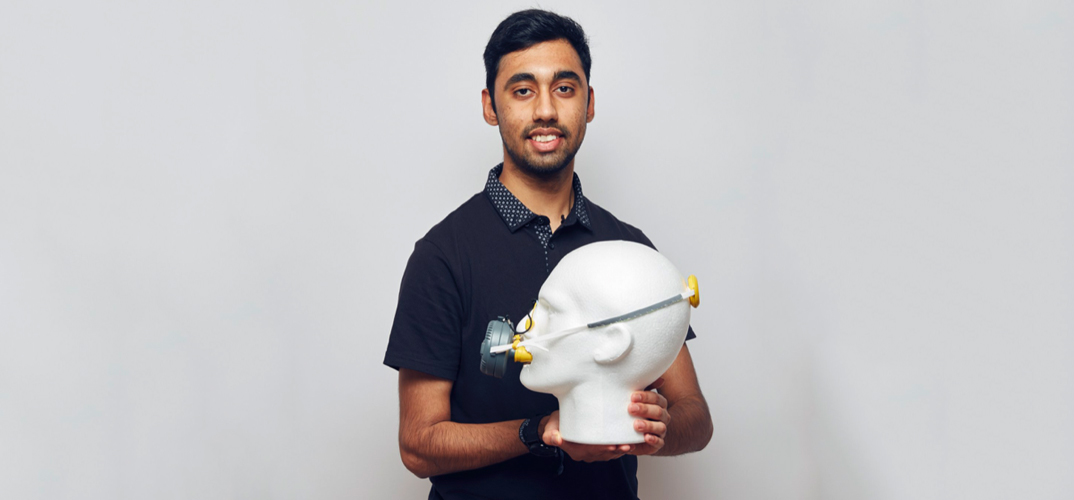 9 July 2019
Rimal Bhatt, a recent graduate of the University of Hertfordshire's BSc Industrial Design degree, has been named the Business Design Centre New Designer of the Year at the prestigious New Designers 2019.
New Designers is an annual showcase of the work of 3,000 hand-picked graduate design talents from around the country. The New Designers Awards celebrate the designers of the future by recognising new design, thinking and innovation, whilst announcing the emerging design trends to look out for in the year ahead as seen by the next generation.
Rimal Bhatt's award-winning design is for a fire evacuation mask that allows 15 minutes additional breathing time in a smoke-filled building, such as a tower block. The innovative respirator mask can also track and monitor residents as they exit the building. His design was commended for being a "simple, easy to implement solution to a very current issue".
Phil Healey, Dean of the School of Creative Arts, University of Hertfordshire, commented: "In the School of Creative Arts we are focused on the ways that creative thinking can benefit people and society. Rimal's design provides an outstanding creative solution to a very real and current need by providing life-saving opportunities for people in an emergency situation.
"We are really pleased that Rimal and his work have been recognised with the award of Best New Designer at New Designers 2019. He is a credit to the School, the University and the excellent teaching team on BSc Industrial Design."
Rimal Bhatt commented: "I'm extremely honoured to have received the Business Design Centre New Designer of The Year Award 2019. I'm grateful for the recognition I've received for my work, as I've tried to create a simple and easy to implement solution to a very current, critical issue. I'd like to say a special thank you to my university and lecturers for providing the academic support I needed to excel in Industrial Design, a field I'm very passionate about."
Please note that some of the images and videos on our news pages may have been taken before social distancing rules in the UK came into force.