University of Hertfordshire helps leading female coaches to further develop their potential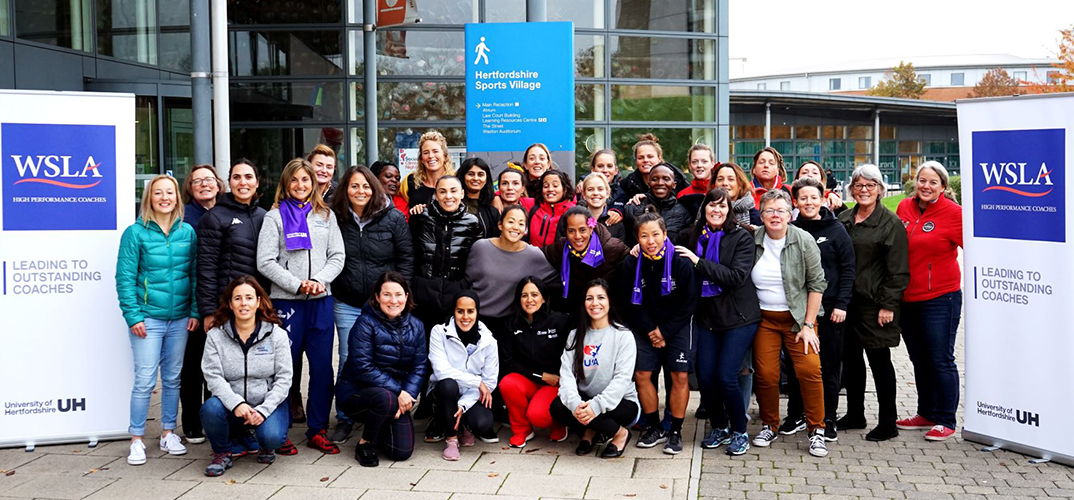 12 November 2019
Elite female coaches from around the world attended the first residential week of The Women's Sport Leadership Academy for High Performance Coaches (WSLA HPC) programme at the University of Hertfordshire, from 4 to 8 November.
The WSLA HPC programme has been specially designed and developed for selected high-performance coaches, with the aim of preparing them to step up and be part of an increased cohort of high performance female coaches at the Continental, International and Olympic Games.
25 elite coaches from a range of sports and countries attended the programme at the University, including the UK representative, rugby coach Rachel Taylor: "I think there is lots of progression in women's sport for athletes and participants. Programmes like this are important to ensure the coaching aspect is looked after. They also offer an opportunity to learn from those who have been there before and to hear from people from different sports and cultures about how they overcame obstacles."
As a covered athlete and the first Arab female to participate in the Triathlon Asian Games 2014, Najla Aljeraiwi from Kuwait, faced many such obstacles at the start of her career. These included women's participation in sport, finding the right outfit to race in that didn't hinder her performance, as well as battling cultural and social differences. "I overcame these obstacles as I had the will to overcome them. Now it's easier for girls to take part in sport," said Najla.
Clarissa Chun (USA), former 2012 London Olympics wrestling bronze medallist is also taking part in the WSLA HPC programme. She believes that it is a much-needed programme for professional development, to help her stretch herself, to learn and grow as well as have new experiences. "I'm excited for the investment in growing female leadership. This opportunity is an invaluable experience for me. I'm currently working at USA Wrestling as a national coach, but I want to be a better leader, title aside."
Professor Elizabeth Pike, Head of Sport, Health and Exercise at the University of Hertfordshire, commented: "We were pleased to welcome a number of outstanding high-performance female coaches to the University last week. They attended a full week of seminars and activities specifically designed to support their personal development and enhance their coaching and leadership skills at an international level. They also learnt how to maximise their learning and create networks to enable them to extend their reach and raise awareness among other female coaches and athletes who may wish to become elite coaches.
"Our ongoing support will not only enable these coaches to thrive in a high-performance environment, but it will also help them become phenomenal female coaches."
Please note that some of the images and videos on our news pages may have been taken before social distancing rules in the UK came into force.