Universities and Innovation Minister visits Hertfordshire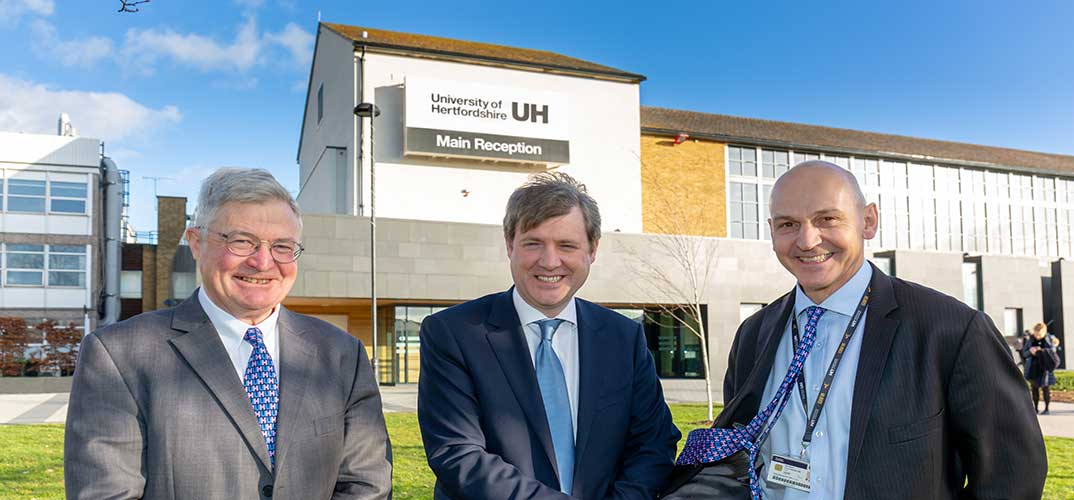 8 February 2019
The new Minister of State for Universities, Science, Research and Innovation, Chris Skidmore, visited the University of Hertfordshire on 7 February to discuss the institution's focus on vocational and technical education to help address the national skills gap in engineering and technology.
Meeting with representatives from the University of Hertfordshire, the Minister toured the University's state-of-the-art hospital simulation suite and Engineering school, which houses the institution's cutting-edge automobile simulator, four-post vehicle dynamic rig and in-house commercial flight simulators. The tour also encompassed the University's Microfluidics and Microengineering Research Group laboratory.
Vice-Chancellor, Quintin McKellar, discussed the institution's focus on aligning research and teaching activities to meet the demands of businesses, highlighting a number of industry collaborations in ICT and engineering-related industries. Currently the School of Engineering has partnered with SMEs in 35 Government-funded Knowledge Transfer Partnerships.
During the visit the Minister also met with students to talk about how courses underpinned by industry insight and placement opportunities are equipping them with the skills to progress in employment.
Technical and vocational qualifications such as these at the University of Hertfordshire are crucial to meeting the skills requirements of industry, as well as giving students the flexibility and portability of qualifications that they need. What's more, these pioneering research initiatives help further the government's modern Industrial Strategy which aims to make Britain the world's most innovative economy.
It was a real pleasure to also speak with students about their own degree choices, the value degree placements have brought them, and to learn more about some of the work the university has done to help improve the student experience and transition to university, something I am keen to highlight in my efforts to improve access and participation.
Chris Skidmore
Minister of State for Universities, Science, Research and Innovation
The University prides itself on cutting-edge facilities and a curriculum informed by business, research and the professions. It is vital our students leave us with the employability and transferable skills to lead successful professional lives. I am delighted that we have been given the opportunity to show Chris Skidmore first-hand how we are working to close the national skills gap, particularly in engineering and technology, and how we work with and meet the demands of innovative businesses.
Professor Quintin McKellar
Vice-Chancellor at the University of Hertfordshire
Please note that some of the images and videos on our news pages may have been taken before social distancing rules in the UK came into force.