UH Racing goes international for Formula Student 2019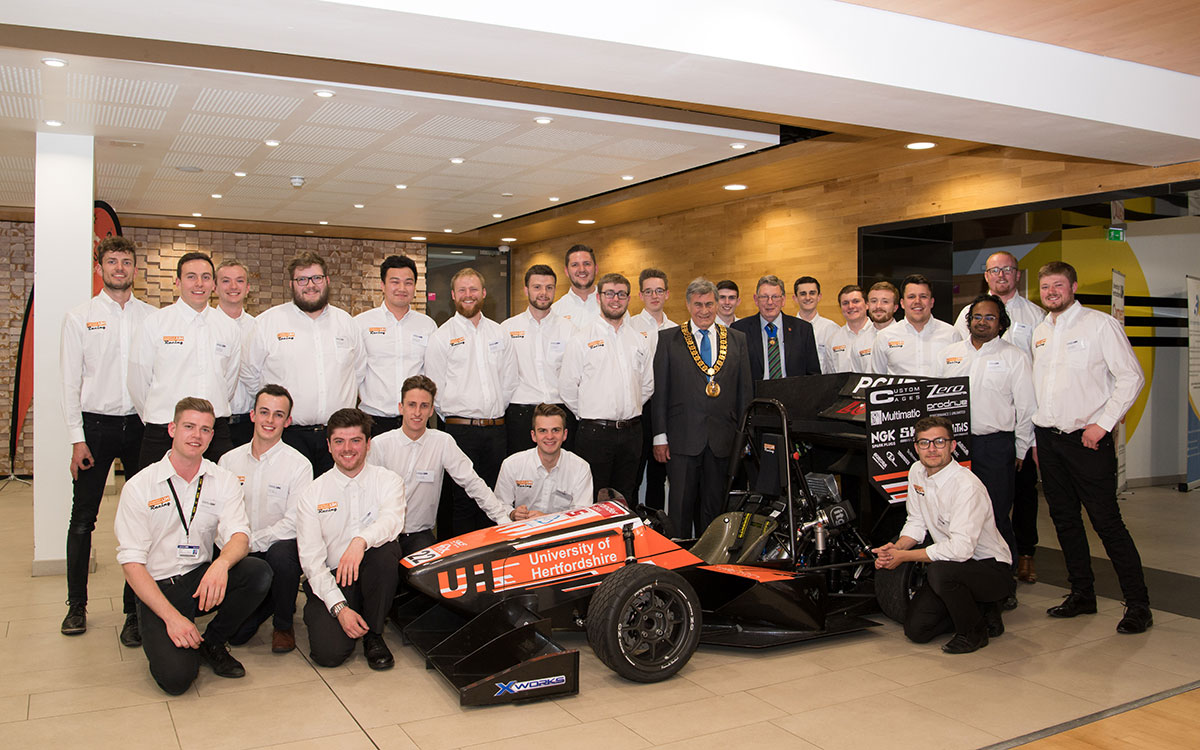 10 June 2019
UH Racing, the University of Hertfordshire's Formula Student team and one of the most successful Formula Student teams in the UK, has unveiled this year's competition car ahead of the 2019 series of races.
The UH22 is a single seat combustion race car which features cutting-edge automotive technology and innovative design.
This year sees the team of 20 Engineering and Motorsport students from the University's School of Engineering and Computer Science also competing in international Formula Student events in The Netherlands and Italy, as well as the season highlight event at the home of British motorsport, Silverstone.
Formula Student is Europe's most established educational engineering competition and celebrated its 20th anniversary in 2018. The competition aims to develop enterprising and innovative young engineers and encourage more young people to take up a career in engineering.
The project forms part of the students' degree project and offers students hands-on experience in the lab as well as the opportunity to form relationships with contacts throughout the automotive industry, from suppliers to race teams.
This year's car is an evolution of previous year's designs, with a lighter chassis for better handling on the track. We're looking forward to testing the car over the next few weeks, as gaining significant mileage on the car is vital to performance and driver preparation. The team has been working hard on the design and build since last September and we can't wait to get behind the wheel and represent Hertfordshire on an international stage.
Ryan Clabon
UH Racing team leader and MEng Engineering student
We have a strong heritage of success in Formula Student and we are confident of a top ten finish in 2019. Over the past 20 years, our teams of talented and dedicated students have led UH Racing to many successes, from designing the first electric Formula Student car to competing in international competitions and picking up many awards along the way.
Howard Ash
Engineering Programme Tutor, University of Hertfordshire