Pilot studies students take-off for flight training in Michigan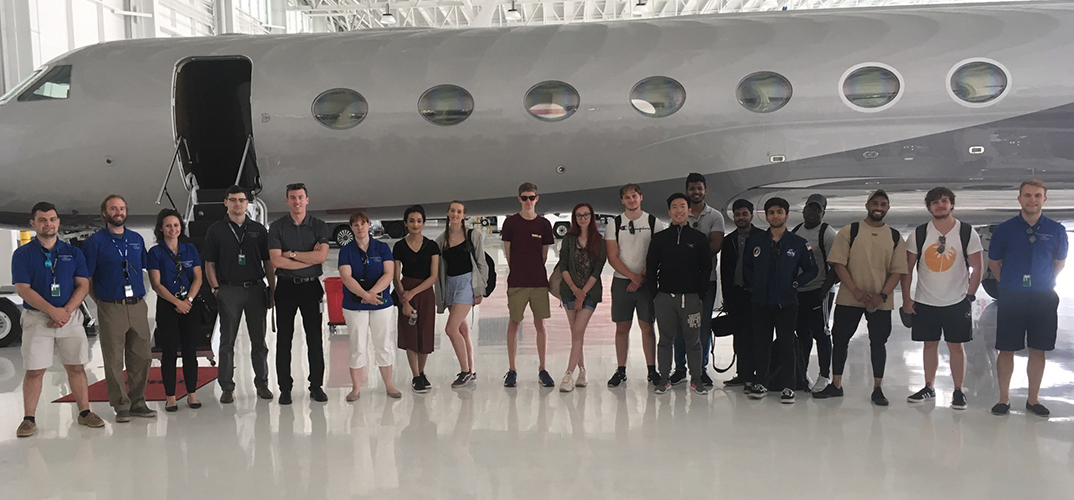 14 August 2019
This summer, 22 University of Hertfordshire aerospace engineering students have travelled to Northwestern Michigan College (NMC) in Traverse City, Michigan, USA to complete their flight training.
They fly over the great lakes by day and study in the modern aviation ground facilities in the evenings.
NMC Aviation training is not just for those who consider becoming professional pilots, but it also provides useful practical knowledge and skills for aerospace engineers. As a result, it is not just the University of Hertfordshire's pilot studies students that go there, but also our aerospace engineering students who want to experience a few hours of flying so they have better understanding of how various aircraft handle.
Once a student has flown as a pilot, their understanding and appreciation of cockpit ergonomics as well as human-aircraft interaction increases significantly. In addition to flying, students also interact with the maintenance team in the hangar and can learn practical skills while observing how maintenance of a general aviation aircraft looks like in real life.
Students have a choice of completing 20 hours of flight during Flight Experience Course which lasts 17 days, or stay for 10 weeks in Michigan and train to obtain their Private Pilot Licence.
The 20 hours Flight Experience course includes flight training in Cessna 172, Cessna 152, Aerobatic and Seaplane. Students also have evening presentations from Air Traffic Control Manager, Airport Operations Director, Seaplane and Aerobatic Pilots. As an additional experience, NMC organised for the students to fly down to Grand Rapids and have a tour of Amway Corporate Aviation where several NMC graduates are now pilots.
The students who opt for the Private Pilot Licence course are making a great progress and will be returning to the UK before the start of the new academic year. The PPL training is very extensive and involves different manoeuvres, cross country flying, solo flights and ground school to achieve the PPL.
Four recent University of Hertfordshire graduates have returned to NMC to complete the Commercial and Flight Instructor Courses. They are following in the footsteps of previous graduates who completed Flight Experience or PPL courses while studying at the University of Hertfordshire and returned to NMC to obtain their Commercial Pilot Licence and Flight Instructor Licence, before embarking on a career at an airline.
Joanna Rawska, Senior Lecturer in Aerospace Engineering at the University of Hertfordshire, said: "Beautiful views, clear sky and turquoise Lake Michigan are not the only benefits of flight training abroad and the reason why every year our students choose to fly there – it is the long partnership we have established with the Northwestern Michigan College.
"Two of our graduates who are currently training at NMC have just passed their Flight Instructor Licence and have been employed by NMC as NMC Flight Instructors. When the next cohort of University of Hertfordshire students arrive at NMC in summer 2020, they will be training with flight instructors who are our graduates, and hopefully after their own graduation some will return to NMC to complete their Commercial and Flight Instructor Licences and will train the next generation of University pilots, and the cycle will repeat for years to come."
Steve Ursell, Head of International Aviation Program, NMC Aviation, commented: "NMC are very proud of our partnership with the University of Hertfordshire, which started back in 2010. Since the start of our International partnership we have had over 200 University of Hertfordshire students flight train at NMC.
"One of the most rewarding parts of the partnership is the success of the students. Pilot training is tough and thorough, however, we have a high pass rate with over 90% of University of Hertfordshire students that train at NMC Aviation passing their courses.
"With our links to Regional Airlines, several University of Hertfordshire students have returned to NMC Aviation to complete their Commercial Pilot Licence and are now working as Commercial Airline Pilots. We are proud that we can help University of Hertfordshire students develop their careers and look forward to continuing a long and successful partnership with University of Hertfordshire and their students."
Please note that some of the images and videos on our news pages may have been taken before social distancing rules in the UK came into force.