Personalised prosthetics business wins big at annual University of Hertfordshire FLARE awards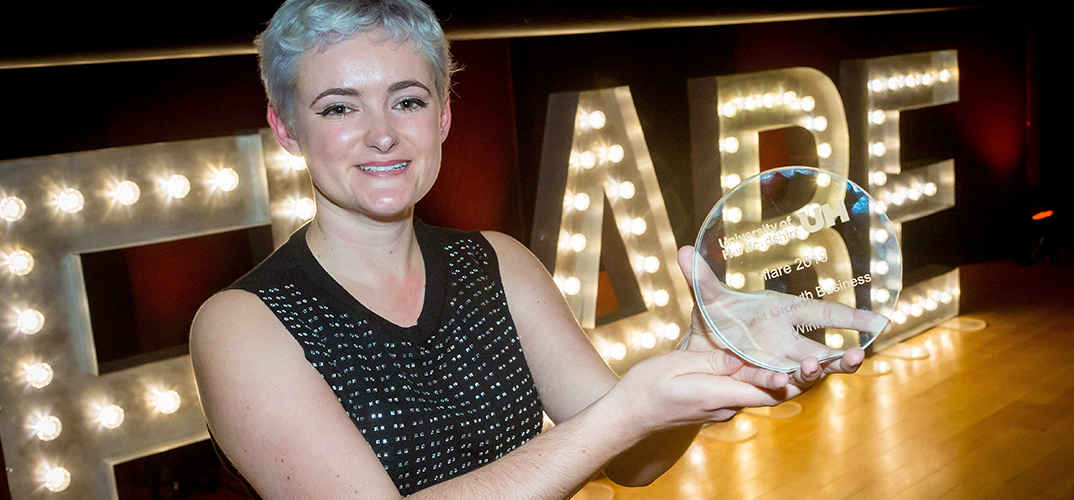 11 October 2019
Creative Arts student Izzy McInnes was the big winner at this year's University of Hertfordshire's annual start-up business awards, FLARE.
Izzy won the 'Best Growth Business' award, sponsored by Santander Universities UK, and £8,000 prize money after impressing the judges with her business, 'Izzy Makes', which creates unique and personalised prosthetics for clients within an affordable price range.
Reflecting on the award, Izzy McInnes said: "I'm over the moon that my business has been recognised by the judges. My inspiration came from wanting to celebrate individuality and turn disability aids into fashion statements. I use 3D scanning and printing technology to create the prosthetics, before finishing them by hand to make them extra unique. My designs include additional features and colour options, tailored to the client's needs, with modular, switchable components available at an additional cost."
"I found out about the FLARE awards during my studies and the Careers and Employment team at the University have provided invaluable support with growing my business, I can't thank them enough."
Several other awards were presented on the night, including £5,000 for 'Best Idea', which was won by Hanna Leipold and Janine Simpson for their Hertfordshire Art Therapy service. Hertfordshire Art Therapy provides tailored support for children experiencing learning and social difficulties at school, offering interventions that improve a child's self-esteem and remove barriers to learning.
Domagoj Lovric took home £5,000 after winning 'Best Business' for Arc Tutoring. Launched in February 2019, Arc Tutoring delivers education support to undergraduate students at Hertfordshire Business School and the School of Engineering and Computer Science. Dom works with first-class students who teach modules they excel in. These students help prepare other students for exams, leading to improved grades and great employability.
The 'Innovation in Healthcare' award, sponsored by Eisai, was won by Aaron Ellis-Montoya for his United Minds Project. United Minds is a mental health support service that aims to create safe, friendly and non-judgmental environments for professional and academic organisations. Their Peer-to-Ear scheme allows individuals to share their struggles in confidence with another trusted co-worker, or in the case of students, one of their peers. This shared space encourages those dealing with mental health issues to talk about them openly and overcome their difficulties together. Aaron took home £2,500 in prize money.
The 'People's Choice' award was decided by an audience vote on the night and was won by Zahra Bello for her business Siren, an online store selling clothing specifically designed for taller women. Zahra took home £1,000 in prize money.
Julie Newlan, Pro Vice-Chancellor Business and International Development, University of Hertfordshire said: "Congratulations to our outstanding students and alumni who have taken part in this year's competition. There were many fantastic businesses, projects and ideas, with many showcasing inspiring entrepreneurial spirit and innovation. I wish them all the best of luck with their future endeavours."
Please note that some of the images and videos on our news pages may have been taken before social distancing rules in the UK came into force.