Operation Matador - A 60 year celebration
26 April 2019
On Wednesday 24 April we were delighted to welcome back on campus a group of alumni with a very special link to the University.
The Original Road Trip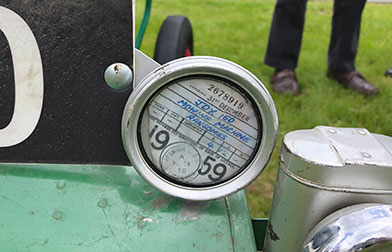 In 1959, five friends studying at Hatfield Technical College embraced the pioneering spirit of the time and hatched a plan to ride a Ransomes Matador lawnmower non-stop between Edinburgh and Hyde Park in London (stopping off at the Hatfield campus en-route).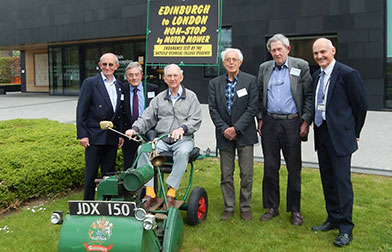 The five students, Mike Smith, Tom Hudson, Hugh Tansley, Mike Savage and John Wilson, left Edinburgh Castle with Tom driving the first leg on the lawnmower and the others crammed into a Bedford Dormobile, which was to be their home for the next four days.
Four days and three nights after leaving Edinburgh, they triumphantly rode into Hyde Park to be greeted by a high-powered reception committee of Royal Park's staff, Ransomes top management, a BBC television crew and the press.
…and today
The five intrepid drivers were invited back on campus to celebrate the 60th anniversary of their feat of engineering alongside members of Ransomes and the Ipswich Transport Museum who brought with them the replica mower, with original number plate, signage and tax disk.
After handshakes were exchanged, the famous five and their guests enjoyed lunch in the New Chapman Lounge and marvelled at how the University has changed and the 'luxuries' afforded to current students.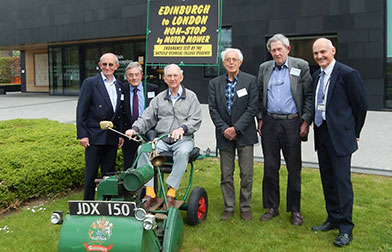 Vice –Chancellor Professor Quintin McKellar CBE attended the event and said "I am delighted to welcome you all to this amazing celebration, some 60 years on from that epic Easter weekend back in 1959. It was an incredible feat and a credit to yourselves, Hatfield Technical College as it was then, and the Ransomes company. You have entered the annals of the history of the University and it's a pleasure to welcome you and your wives on this historic occasion, and to get a shot driving the lawn mower!"
The celebrations concluded with a tour of the University's Engineering department to see the recently installed driving simulator in the automotive laboratory, as well as various flight simulators and the latest Student Formula racing car being designed and built by the engineering students.
Dodging the April showers, all that was left to be done was to take photographs of the original team with the lawnmower before everyone set off, agreeing to meet up in five years!
Mike Smith, one of the 'masterminds' behind the ride added,
"We keep in touch with each other, but it has been 10 years since we were all together. What's really amazing is that we are all still here to celebrate again a decade later and we are truly grateful to the Vice-Chancellor and his staff for this generous recognition."
If this story has inspired you to reunite with your friends, contact us on alumni@herts.ac.uk