Local students show off their scientific & technological wizardry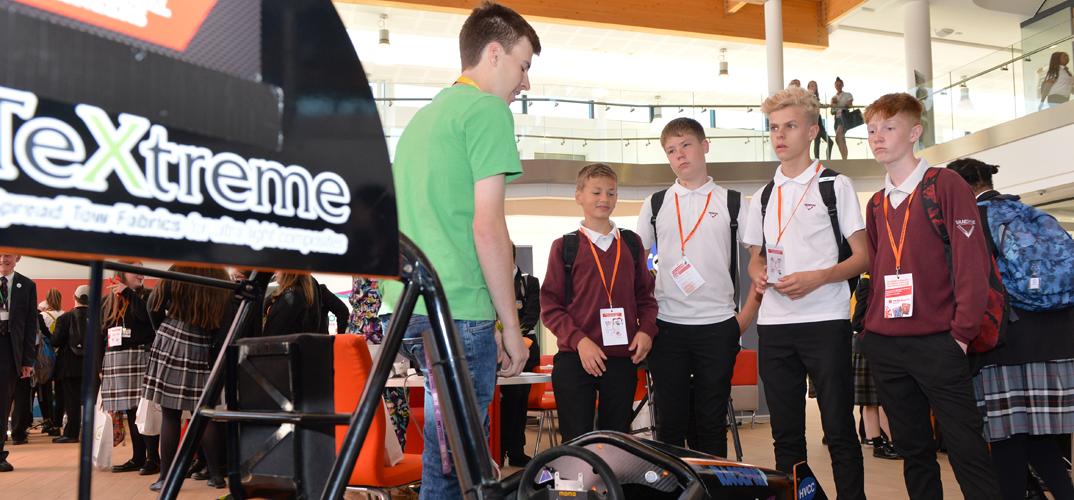 8 July 2019
Students from secondary schools around the East of England made a beeline for The University of Hertfordshire on the 4th July to showcase their Science, Technology, Engineering & Mathematics (STEM) projects at The Big Bang Fair Eastern.
The winners at The Big Bang Fair Eastern, which took place at The University of Hertfordshire's College Lane campus, will win cash prizes of £200 to be split between the students and their school/STEM Club. They may also be nominated to attend the UK Young Scientists & Young Engineers Competition at The Big Bang Fair in Birmingham in March 2020. The Big Bang Competition is an annual contest designed to recognise and reward young people's achievements in all areas of science, technology, engineering and maths (STEM), as well as helping them build skills and confidence in project-based work.
At the event, there will be 'music to the ears' of the 3,500 students present, thanks to a show about sound from Science Made Simple, and also a chance to explore space with Sirius Astronomy and discover the science of cells and DNA. And that's just the start. There were many other presentations and STEM-related activities throughout the campus, with regular shows in the University's own planetarium.
They also got to meet some of the region's biggest science, technology, engineering and mathematics employers, including Roche, Just Eat, MBDA, Raytheon, GSK, Mitsubishi Electric, Morrisons Utility Services and many more.
Sue Sissling, Director, Centre for STEM Education at the University of Hertfordshire, commented: "The University of Hertfordshire is delighted to host The Big Bang Fair Eastern 2019. We hope that first-hand experience of interactive exhibits provided by the University and industry exhibitors will inspire young people to enjoy and pursue STEM subjects as they progress through school and become the creators and researchers of the future."
Helen Spencer, from event organiser SETPOINT Hertfordshire, said: "The UK needs many more scientists and engineers if we are to remain a powerhouse in this sector. Events like the Big Bang Fair are crucial to attracting young people to work in hugely rewarding science, technology, engineering and mathematics careers – we celebrate their achievements, inspire them and open doors on how these subjects are applied in the workplace."