Regional pupils chosen from over 48,000 to win engineering design award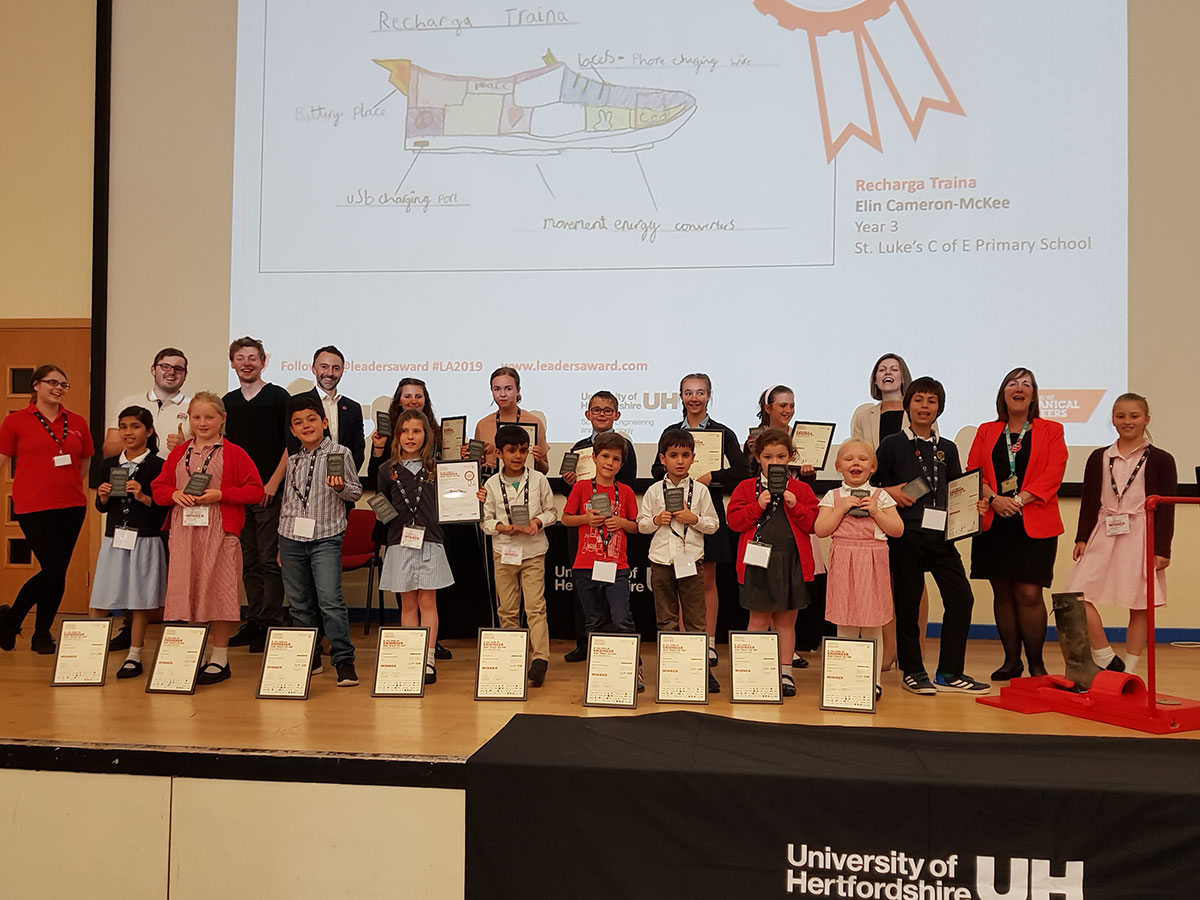 24 June 2019
On the 6th June at the University pupils from all over the East of England received awards in the national engineering competition, the Leaders Award, answering the question 'If you were an engineer what would you do?'
The competition, run by the organisation Primary Engineer, sees pupils across the UK interview engineers, identify a problem and design a solution to it.
This national competition saw entries from over 48,000 pupils in what has been described as the largest classroom-based engineer inspired activity the UK has seen. Pupils as young as three and as old as 18 have taken part, and contrary to popular belief that engineering is struggling to attract females, this competition boasts a 50/50 gender spilt.
17 pupils from across the region were awarded trophies at the event and the University of Hertfordshire's Proto Team unveiled their prototype of one of last years' winning entries, 'The Station', invented by Holly Deamer from Great Dunmow Primary School, which was designed to assist with wellington boot removal when muddy to save your hands getting dirty.
Each year I am astounded at the solutions the children engineer. After looking round the exhibition you are left not only inspired by their ideas, but you also leave with a feeling that we will be leaving the world in good hands.
Dr. Susan Scurlock, MBE
Founder of Primary Engineer
Primary Engineer is an organisation that has consistently demonstrated a passion and commitment to the development of young people through engagement with engineering. It is never too early to be enthused by the possibilities associated with engineering and the University is delighted to have worked with an organisation that is inspiring the engineers of the future.
Rodney Day
Dean of the School of Engineering and Computer Science at the University of Hertfordshire
To enter the competition schools can visit https://leadersaward.com/
Please note that some of the images and videos on our news pages may have been taken before social distancing rules in the UK came into force.