Inspirational ATA female pilots honoured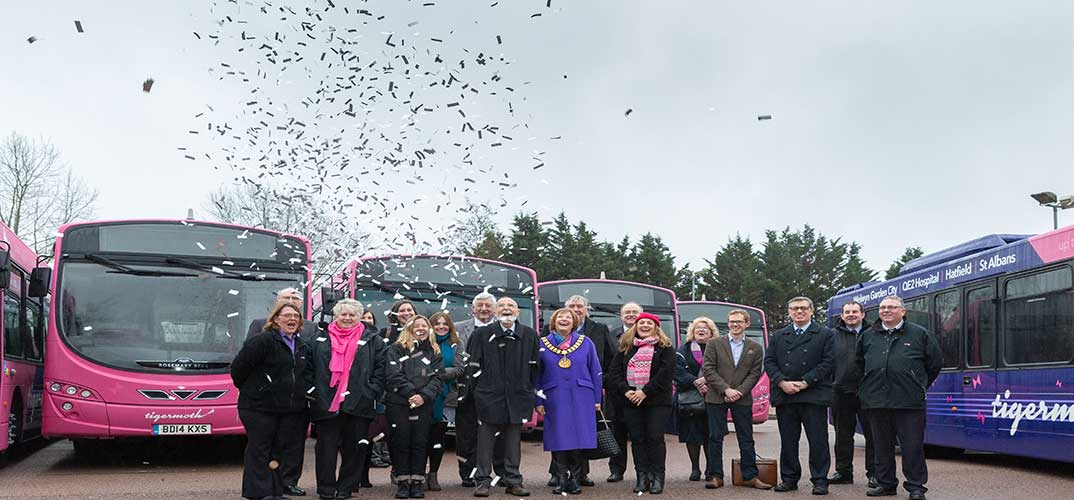 6 February 2019
Hatfield based bus company, Uno Buses, commemorated the inspirational women of the Air Transport Auxiliary at the launch of its new bus brand tigermoth.
Each of the eight buses, branded tigermoth after the de Havilland biplanes manufactured at Hatfield aerodrome, commemorates one of the first eight women who joined the Air Transport Auxiliary in 1940. The ladies broke into the all-male world of military flying, something that is now cited as an important chapter in both aviation and women's history.
The ATA was a civilian organisation which ferried planes between factories and front-line RAF airfields during World War II. These first female members of the ATA flew the first delivery of Tiger Moth 'open cockpit' planes from Hatfield up to Scotland in the depths of winter in World War II.
"We're delighted to be able to honour these amazing women and help share their story as widely as we can. All our teams are so passionate about celebrating our local heritage and to be able to display this incredible part of our history on our buses is something we're all very proud of."
Jim Thorpe
Managing Director of Uno buses, the University's of Hertfordshire's bus company
These women flew unarmed, without radio, navigating by map-reading and always at the mercy of the ever-changing British weather. Until July 1941 women were only approved to fly trainers like the Tiger Moth or communications aircraft. In 1943 11 women were cleared to fly 4-engined bombers and ATA finally gave its female and male pilots equal pay. The 'ATA-girls' were a very special sisterhood and are superb role models for young women today. We're really pleased that Uno are helping to tell their story."
Richard Poad
Chairman of The Maidenhead Heritage Centre, the spiritual home of the ATA
The 8 tigermoth buses will run on Uno's 653 service between Hatfield, Welwyn Garden City and St Albans. Each bus will have the name of one of the ladies on the front of the vehicle and inside the bus there will be a photo and further information about her life and the ATA.
Please note that some of the images and videos on our news pages may have been taken before social distancing rules in the UK came into force.