Hertfordshire signs Progression Agreement with College of North Atlantic, Qatar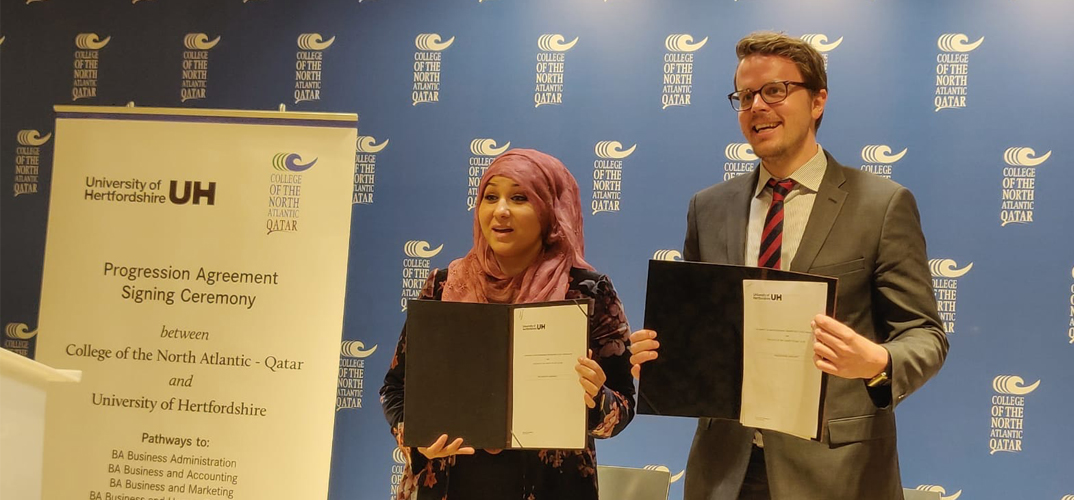 20 March 2019
The University of Hertfordshire and the College of the North Atlantic – Qatar (CNA-Q) signed a Progression Agreement allowing CNA-Q graduates to earn Bachelor's degrees in the United Kingdom. The progression agreement includes pathways for three of the College's academic schools, paving the way to nine different degree programs.
At the signing ceremony announcing the academic pathways today, the University of Hertfordshire also announced that it will offer a scholarship to each CNA-Q student who enrols with them, covering 15 per cent of the first year's tuition in the UK.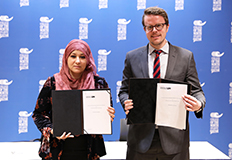 Ms. Samah Gamar, CNA-Q's Vice-President, Academic said:
"Our mandate at CNA-Q is to provide internationally-recognized technical and vocational education and training in partnership with employers for Qatar's evolving economy. In addition, we believe that collaboration with other higher educational institutions is integral to ensuring our graduates have diverse options for continuing their education and to achieve higher credentials. The agreement formalized today will enable our students to increase their technical know-how by achieving baccalaureate degree credentials in their field of specializations, by expanding on the high-quality technical education gained at CNA-Q."
"Further, we are so pleased that the University of Hertfordshire is extending generous scholarships for our students. This is a true testament to the strong partnerships formed today and the University of Hertfordshire's confidence in our students."
Business Studies students can complete a BA in the disciplines of Business Administration, Business and Accounting, Business and Marketing, Business and Human Resources or Human Resources Management.
Graduates of the three-year I.T. programs can complete a BSc (Hons) in Computer Science or Information Technology.
Engineering Technology graduates can achieve BSc (Hons) in Automotive Technology with Management, or BEng (Hons) Electrical and Electronic Engineering and Mechanical Engineering.
Mr. Stuart Smith, Director of International at the University of Hertfordshire, went on to say:
"The University of Hertfordshire has a long history of technical education, and our two institutions are aligned in values of higher education and vocational learning. One of the core aspects of our university, like CNA-Q, is to maintain strong connections with industry and business leaders, which leads to a high rate of employability and professional success for our graduates. We are pleased to be in Qatar today to sign this progression agreement, which formalises our partnership and our commitment to ensuring CNA-Q's students go on to achieve great success in their education."
Since its inception in 2002, CNA-Q has grown to offer 26 diploma and certificate programs in applied, technical and occupationally-aligned fields. It has graduated thousands of students who have infused Qatar's industries and sectors with work-ready professionals.
This year marks the 17th year that CNA-Q has been providing experiential technical education in Qatar to support the State's strategic vision for human capital development.
Please note that some of the images and videos on our news pages may have been taken before social distancing rules in the UK came into force.