Hertfordshire Law School gives its first Streetlaw presentation as part of Refugee Week 2019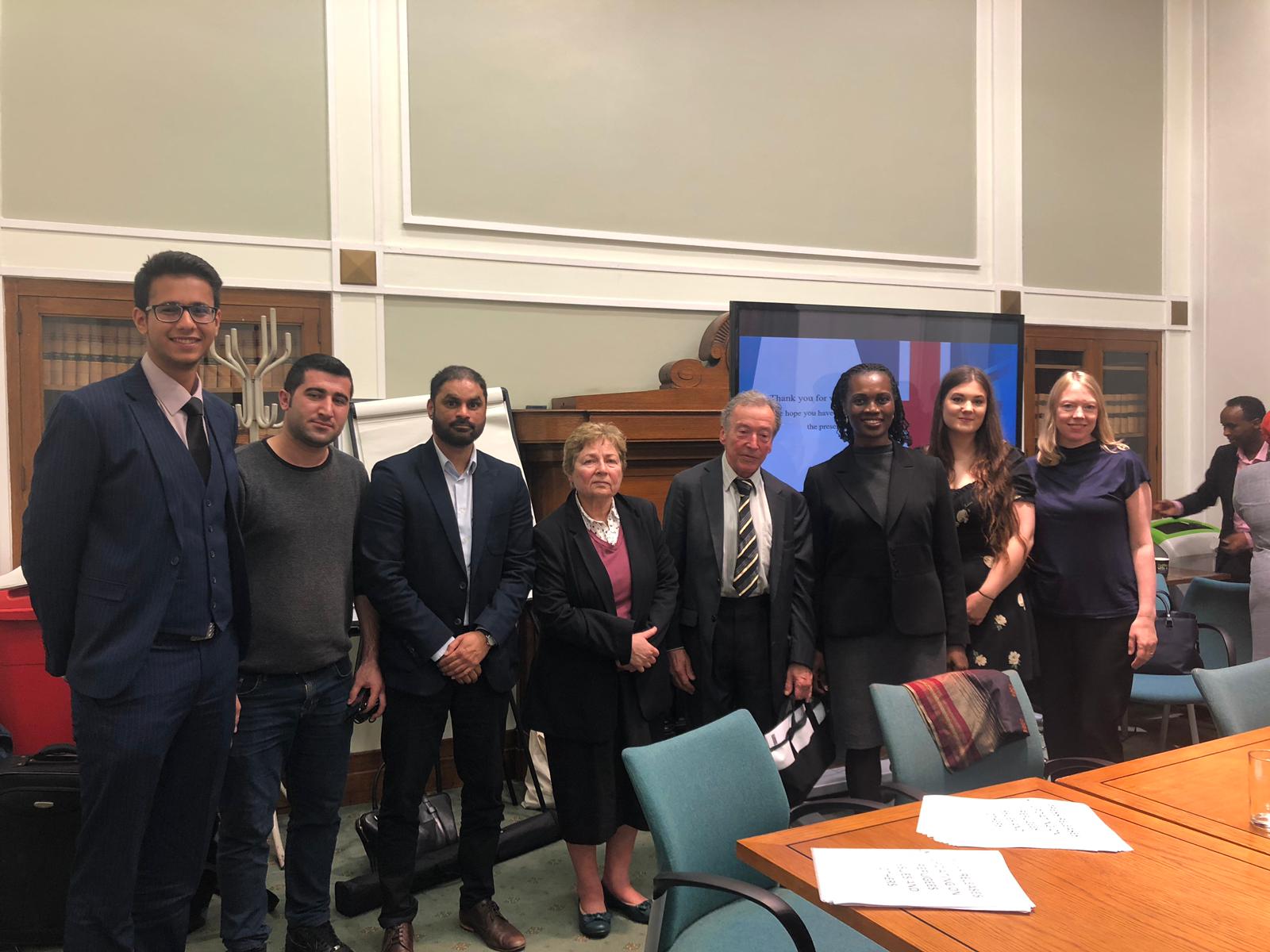 9 July 2019
Students from Hertfordshire Law School gave their first Streetlaw presentation at Islington Town Hall on the 20th of June 2019.
Streetlaw is a legal education project aimed at improving access to justice by demystifying areas of law that affect the wider community. Hertfordshire Law School launched its new Streetlaw Project this summer and students have been working to develop new presentations for school children and community groups on a wide range of topics.
The inaugural presentation focused on raising awareness of key issues affecting migrants and refugees. Sartaz Billing, second-year law student, explained how negative stereotypes and fake news about immigrants needs to be challenged. He also shared information about revocation of citizenship, and how the case of Shamima Begum has divided opinion.
Jade Rozycki, first-year criminology student, shared with the diverse audience consisting of voluntary and community organisations, lawyers, and members of the public, the great deal of uncertainty faced by EU nationals since the Brexit vote. She also considered critically the questionable criteria that immigrants need to satisfy to obtain citizenship, and the criteria a sponsor needs to satisfy if they want a family member to join them in the UK. Contribution to the development of the informative presentation was also provided by Kerry-Anne O'Connor, a second-year law student.
The presentation was well received and led to a great deal of passionate discussion and questions that were then addressed by the panel of experts that included Mr Richard McKee, a retired Immigration Judge, Dr. Kathryn Alexander Theodotou, principal at Highgate Hill Solicitors, Ms Alberta Tevie, Chair of Middlesex Law Society, and Dr Sham Qayyum from Hertfordshire Law School.
Streetlaw provides a great feeling of accomplishment as you are giving legal knowledge to people who need it the most, free of charge. It is a great way of giving back to the community.
Sartaz Billing
Student at Hertfordshire Law School
Sartaz, Jade and Kerry worked really hard and have got the new Streetlaw project off to a brilliant start. Streetlaw is a great way for students to put their legal knowledge to practical use, providing communities with information about their rights and encouraging audiences to think critically. The project can also have a transformational effect on students, inspiring them to reconsider the type of lawyer they want to become when they realise the value their skills can have in society.
Diana Kirsch
Director of Pro Bono at Hertfordshire Law School
The presentation was a fitting contribution to Refugee Week, which is an annual series of events held across the UK to celebrate the contribution of refugees, promote understanding as to why people seek sanctuary, and to foster positive community relations.
In this hostile immigration environment it is very important that we work collaboratively to help migrants. I'm really pleased about working with Hertfordshire Law Clinic and especially young people to make a real difference.
Harbi Farah
Coordinator at Islington Refugee Forum
The seminar was a great example of collaborative work, with Hertfordshire Law Clinic coming together with Islington Refugee Forum, a second tier charity, Islington Council, Highgate Hill Solicitors, and Middlesex Law Society, to deliver a much needed and appreciated event. A common message shared by the panel members was the need for us all to work better together to address the needs of disadvantaged members of our society, whether that means campaigning for fairer policy and law to reaching out and getting to know our neighbours that are immigrants or are of immigrant heritage. The event gave all those who attended plenty of food for thought and ended with a very useful networking opportunity.
Streetlaw is just one of the new pro bono initiatives that Hertfordshire Law School is launching this year. In September, the university is launching Hertfordshire Law Clinic which aims to help address the issue of unmet legal need in Hertfordshire caused by cuts to legal aid. The clinic will be providing free legal advice on a range of issues including family law and employment law. Hertfordshire Law Clinic is also working with the University's Business Incubator to provide intellectual property and commercial law advice to start-up businesses.