Hertfordshire Business School Dean's Awards honours student achievement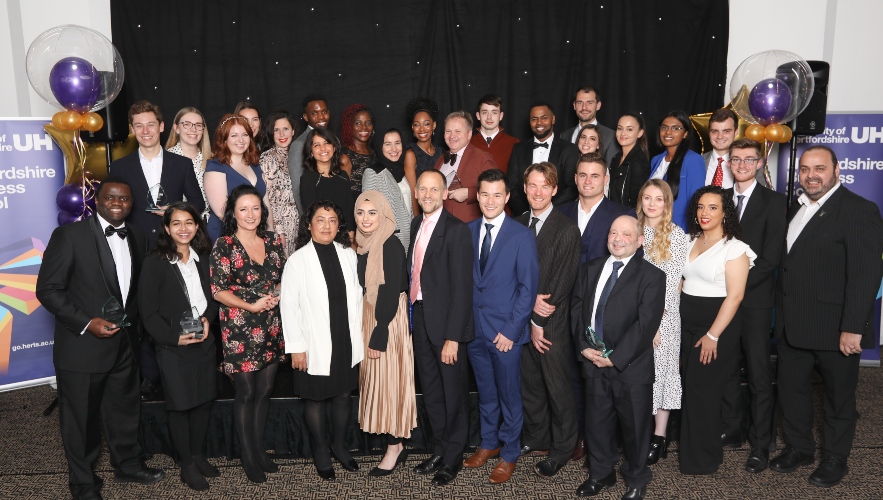 31 October 2019
Student achievement honoured across the Business School at Dean's Awards dinner
On the evening of 17 October, the class of 2019 put on their best outfits and made their way to Beales Hotel in Hatfield for the 2019 Dean's Awards dinner. The Dean's Awards honour recent graduates from across the Business School who have excelled in their studies, but also those who have grown intellectually and transformed their outlook and prospects as a result of studying, or those who have overcome challenging personal circumstances.
For the first time, Hertfordshire Business School also celebrated its 'Rising Stars' – recent graduates who were identified as the 'ones to watch' throughout their degree programmes and who shone the brightest, and are likely to be going places in the near future.
The School was also delighted to welcome representatives of many of our business partner organisations to the event, some of whom have been long-term members of the 2020 Business Advisory Group. Our business partnerships strengthen our student experience, and it was excellent that so many of them were able to take part.
Professor Damian Ward, Dean of Hertfordshire Business School, said 'I am immensely proud of what our students and graduates have achieved.'
Award winners for 2019:
Mohamed Sahal - Dean's Transformational Award
MBDA UK - Employer Partner of the Year Award
Ian Dust - MBA Student of the Year
Enviolater Nyamangunda - Senior Leader Degree Apprentice of the Year
Marcus Pickover - Intellectual Curiosity (PG) Award
Jonathan Myers - PhD Student of the Year
Masimba Zata - Professional Doctorate Student of the Year
Ryan Evans - Engagement with Professional Qualifications Award
Batoul Alkubaisi, Vanessa Flood, Raghad Bouod & Mark Povey -Transformation through a Client Project (UG) Award
Charlotte Bryce - Transformation through a Client Project (PG) Award
Kudzaiishe Mushoriwa - Transformation through a Sandwich Degree (UG) Award
Monaal Ashiyani - Transformation through a Sandwich Degree (UG) Award
Sabrina Hussein - Transformation through Embracing Diversity Award
Franko Basica - Intellectual Curiosity (UG) Award
Alumni Rising Stars:
Dave Connor, Natasha Bradley, Doria Salvador Cango de Tims, Shivangi Chakraborty, Sarmila Varatharaj, Chloe Wylie, Daniel Duncan, Robert Smith, Maria Fetta, Elliot Jackson, James Bloxham, Georgie Fairweather, Jessica Dean, Sumaiyah Jamil, Haylie Cahill, Amy Rice and Tyler Theobald.