Clearing 2019: University of Hertfordshire anticipates record number of calls to its Clearing hotline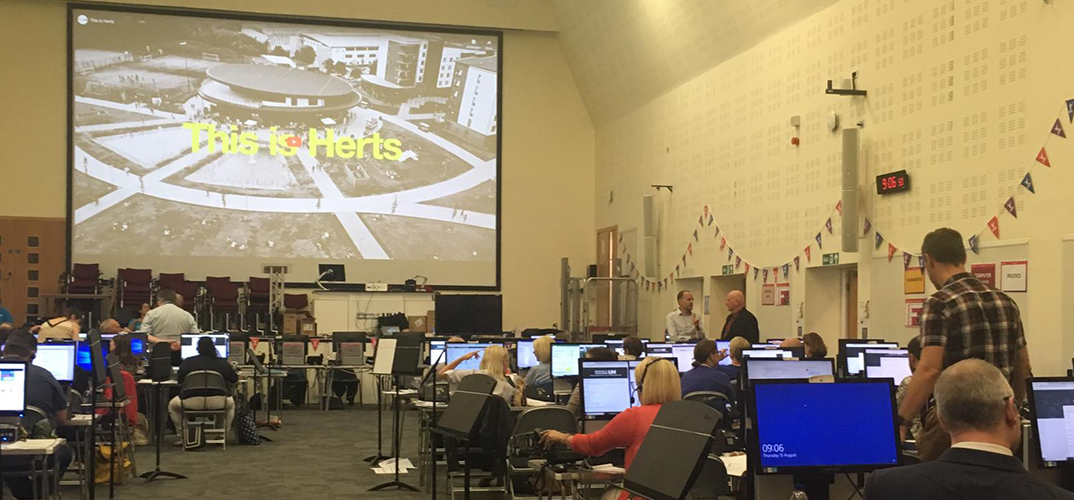 15 August 2019
With A level students receiving their results today (15th August), the University of Hertfordshire is expecting to field a high number of enquiries about course vacancies over the next couple of days.
A large team of support staff, student ambassadors and academic staff will be taking calls, answering online enquiries, processing student applications and replying to course related questions.
The University of Hertfordshire's clearing hotline is open now and will be available until 8pm on 15 August on 0300 303 6300. The hotline will also be open from 8am to 8pm on Friday 16 August, 9am to 2pm on Saturday 17 August and 9am to 5pm from 19 August onwards.
Clearing can be an overwhelming experience for some students, particularly if they have missed their predicted grades. Students who are feeling too anxious to make phone calls are still able secure their place at the University of Hertfordshire, by speaking with the clearing team via the University's website and on Facebook and Twitter. Students will be able to find out more about the courses available, ask any questions, as well as making their application online. The University of Hertfordshire answered nearly 800 social media queries on Clearing day in 2018 and expects this number to increase this year.
"Clearing is an opportunity for students to find their perfect course and their ideal university. At the University of Hertfordshire our aim is to transform lives; our students will experience TEF Gold rated teaching, the highest standard for teaching in the UK, and our courses will help prepare students for their dream job after graduation. During their time at our University there are a wide range of opportunities which they can get involved with, including our first-class sports facilities, volunteering programmes and discovering the world with our study abroad placements."
Professor Quintin McKellar CBE
Vice Chancellor of the University of Hertfordshire
The University of Hertfordshire is holding two clearing open days on Friday 16 August and Saturday 17 August, to give applicants a chance to meet staff and students and take a look round. Any students who aren't able to attend an open day can view the campus tour online.
Please note that some of the images and videos on our news pages may have been taken before social distancing rules in the UK came into force.