Alumnus helps victims of tsunamis, earthquakes, flash floods and landslides across Indonesia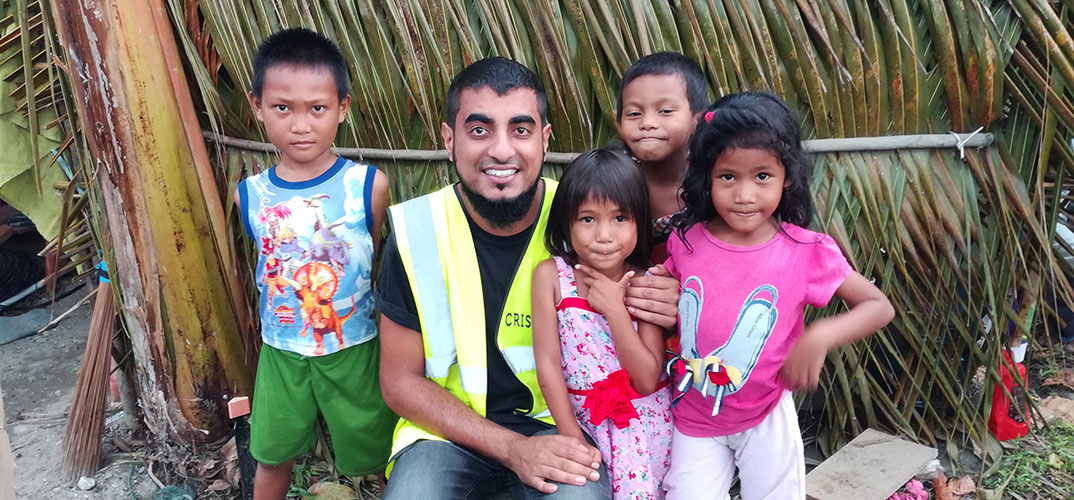 28 March 2019
Khaled Hassan, BA (Hons) English Language & Communication with Journalism - 2007, has spent the past few months risking his life volunteering in natural disaster zones across Indonesia - delivering tents, food, bedding and medicine to desperate survivors of tsunamis, earthquakes, flash floods and landslides.
Raising money
Donations collected from St Albans Mosque and the British Muslim community amounted to almost £20000, with a number of individuals donating £1000 each to help assist the victims. Khaled was overwhelmed by the generosity of the community and equally overwhelmed by the gratitude shown by the displaced people in Indonesia.
Having travelled to over 100 countries and territories across the world, Khaled left St Albans in November 2017 to pursue his dream of living the 'simple life' in an Indonesian orphanage/boarding school in Aceh on the island of Sumatra. Little did he know that his first year in Indonesia would turn into one of the most deadly years in recent Indonesian history.
Earthquakes
A series of earthquakes created a huge tsunami and landslides in Palu, Sulawesi on 28th September 2018, killing thousands of people and leaving hundreds of thousands displaced. Three months later, on 22nd December, Anak Krakatau volcano erupted causing a huge landslide into the sea, which subsequently created a series of tsunami waves killing hundreds of people on the islands of Sumatra and Java. Flash floods soon after hampered relief efforts to access some of the affected communities and villages.
Khaled said "My motivation to do voluntary work in St Albans and abroad began when I became a practising Muslim 12 years ago. It was when I read an English translation of the Quran that I noticed two repetitive messages, which were, to worship one God only and to fill your life with good deeds. Reading the life story and biography of the Prophet Muhammed (peace be upon him and all prophets) reaffirmed my motivation to help the poor and needy."
Devastation
"The scale of devastation from the tsunami and earthquakes in Palu was colossal – death and destruction was all around me. When I was there, the Indonesian government started spraying disinfectant from helicopters to prevent disease spreading from the thousands of decaying bodies that were still buried beneath the rubble and soil. I was also present when a team of divers performed an operation to recover dead bodies from a coastal village that had sunk to the bottom of the sea. It truly was a very grim and heartbreaking scene.
"Although it was scary to experience frequent aftershocks, one of the most challenging experiences for me was accessing the tsunami affected areas in South Sumatra and West Java. I could regularly hear the eruptions from Anak Krakatau volcano, which caused the tsunami, and huge dense clouds of smoke were clearly visible rising violently from the crater of the volcano.
I was there when geological experts and the Indonesian government were warning of another tsunami. The survivors were very traumatised and were refusing to come down from the surrounding hills out of sheer fear. I felt on edge with every eruption I heard, frequently glancing at the sea in anticipation of another tsunami."
If you are inspired by Khaled's story or have done something equally challenging, get in touch with us on - alumni@herts.ac.uk
Please note that some of the images and videos on our news pages may have been taken before social distancing rules in the UK came into force.