Teaching Excellence Framework (TEF)
Based on the evidence available, the TEF Panel judged that the University of Hertfordshire delivers high quality teaching, learning and outcomes for its students. It consistently exceeds rigorous national quality requirements for UK higher education.
Recognition of excellence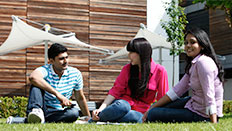 The University of Hertfordshire has been awarded silver in the 2017 Teaching Excellence Framework (TEF) ranking. This award was made in June 2017 and is valid for up to three years.
The TEF silver award was presented to the University in recognition of outstanding outcomes for its students from all backgrounds.
The Panel considered the University submission in relation to the TEF criteria and its judgement reflects, in particular, evidence of:
support for all students, enabling them to achieve excellent outcomes.
initiatives that enable progression to highly skilled employment or further study for students from a range of backgrounds.
substantial investment to provide a high quality physical and digital learning environment.
institutional commitment to widening participation and success for students from disadvantaged backgrounds.
staff development embedded within the culture and practice of the institution.
High proportion of professionally accredited courses

Course design, standards and assessment at the University of Hertfordshire focus on achieving excellent student outcomes, particularly employability.

Our validation and periodic review process ensures programmes provide opportunities for students to develop our Graduate Attributes (GAs):

professionalism, employability and enterprise.
learning and research skills.
intellectual depth, breadth and adaptability.
respect for others.
social responsibility.
global awareness.

78% of the University's undergraduate single honours provision is accredited, approved or recognised by PSRBs, meaning 86% of our single honours students graduate with an accredited, approved or recognised degree.

To enhance rigour, the University has taken action to prevent grade inflation. In 2012 we reviewed our degree classification methodology and approved a more stringent classification algorithm across the University.

A Grade-Point Average (GPA) system will be introduced from 2017, calculated from Grade Points allocated to all modules that contribute to the award (i.e. including first year modules), with an equal weighting of modules across all academic levels. We believe that GPA will contribute to rigour by maximising student engagement across all levels of a programme.

Inquiry and research are embedded within all programmes and demonstration of how research informs the teaching is a requirement within periodic review and validation documentation.

Our 2015-20 strategic plan, in particular the Education strand, makes a commitment to offer research-rich education that produces creative, professional and enterprising graduates.

The University is proud of our focus on original, high quality, applied research. Our research culture, which is defined by a strong spirit of enquiry, innovation and enterprise, feeds directly into teaching and learning.

All postgraduate research students who support teaching undertake the first module of the PgCertLTHE, thus becoming Associate Fellows of the HEA, and we encourage them to use their own research to inform their teaching.

Our business-facing vision means that our courses are typified by strong employer engagement across all programmes and professional accreditation where possible.

Employment prospects and outcomes for our graduates

Through our business-facing vision, we prioritise student outcomes and employability. The result has been very strong employment figures for our graduates.

The University has achieved the best employment rate of graduates in the East of England region, outperforming the whole of the Russell Group.

96.2% of University of Hertfordshire students were in work or further study six months after graduating in 2014/15 with a first degree, according to the 2016 DLHE survey.

The University is now ranked 21st out of 151 universities in the UK, and has risen 44 places in the DLHE rankings over the past 3 years.

Our highly skilled graduate employment figures are excellent. The graduate level outcome (in graduate level work or in graduate level further study) of our UK full-time first degree leavers in DLHE 2014/15, is 77.3%.

Our success is evidenced in outstanding employability outcomes for all students, including for BME, students from disadvantaged backgrounds, and those who are first generation into HE students.

Support offered to students by their tutors

People are at the centre of our University Strategy with Education and Research the main pillars on which it is built. We are therefore committed to the enhancement of learning for all and in valuing and rewarding excellent teaching.

Over the past four years, the number of staff engaged in developing their practice and in seeking formal recognition of their teaching has grown and the latest HESA data published (2014/15) shows we are ahead of the sector in terms of our proportion of qualified staff with 53% holding a teaching qualification compared to 44% across the sector.

The quality of teaching, focussed on students' individual development, is further demonstrated in high levels of satisfaction with personal development achieved through studying at the University: at or above the top quartile for the sector for the last three years of NSS.

The University has invested £120 million over the last 10 years to provide a physical and digital learning environment designed to support students' exposure to specialist, industry standard resources.

University of Hertfordshire NSS scores for resources have been in the top quartile for 9 out of the last 10 years (including 2016). Additionally, the academic environment topped our 2016 start of term student survey, with an overall satisfaction rate of 90.8%.

Although our degrees are challenging and stretch our students, the support we provide helps in our ambition of 'transforming lives'.

Diversity of the student body

We believe that our strong focus on employability, employer engagement and our targeted support for 'widening participation' students has delivered outstanding outcomes for all.

The University's BME Success Project Working Group is very diverse in terms of ethnicity and the contributions from students and staff members from all Schools enable wider discussions of race and racism as well as facilitating the dissemination of good practice.

As a consequence of the work of the BME Success Project Working Group the attainment gap between White and BME students has narrowed by 8.6%, from 27.3% in 2009/10 to 18.7% in 2014/15

Outcomes for students with disabilities are also good, with disabled students as likely to gain a good degree as their non-disabled peers (65% of both groups in 2014/15).

We remain firmly committed to ensuring outcomes remain high and improve further.
What is TEF?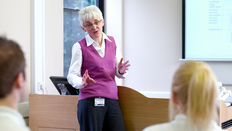 Teaching Excellence Framework (TEF) measures the quality of teaching at Universities and Colleges.
The framework was introduced by the Government in 2016 to help students identify excellent teaching within Higher Education institutions.
TEF decisions are made by an expert panel against a set of criteria covering teaching quality, learning environment, as well as student outcomes. It looks at a range of factors, including the National Student Survey results.
There are three levels of TEF awards - gold, silver and bronze. The first set of gold, silver and bronze awards will be revealed during 2017.
More about TEF
Congratulations
I am delighted that the University has been awarded silver in the 2017 Teaching Excellence Framework (TEF).

I am proud that this award acknowledges how well our graduates are equipped for the world of work and recognises that 96.2% of them are in employment or further study six months after graduating.

The diversity of our students and graduates and our commitment to providing opportunities for people from a variety of backgrounds is also something to be extremely delighted with.

The quality of our teaching has been acknowledged by the professional accreditation of the majority of our courses and our latest National Student Survey responses show that, in the last three years, student satisfaction with assessment and feedback from their tutors has significantly improved.

Our TEF silver award is further evidence of the dedication of staff at the University and we will continue to work hard to ensure our teaching standards remain high.

Professor Quintin McKellar, Vice-Chancellor, University of Hertfordshire