Secretary and Registrar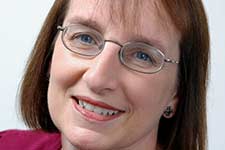 Sue Grant
BSc FAUA
Sue Grant was appointed Secretary and Registrar in September 2013. She is responsible for:
the management and operation of the Board of Governors and the Academic Board.
compliance with University policies, regulations and procedures.
legal matters of the university and its wholly owned subsidiaries.
health and safety.
internal audit.
equality.
the registry.
the office of the Dean of Students.
process review.
professional staffing.
She joined the university in May 1983 and has been the Academic Registrar since 2004. During this period she has been involved with numerous projects including the establishment of a student centre, the implementation of a new student record system and the restructuring of the organisation which involved the establishment of the 10 current schools of study.
At national level she has been Chair of the Academic Registrars Council which she stepped down from on becoming Secretary & Registrar. This involved working with HEIs across the sector and with BIS, UUK and the Home office. She is a Director of Uliving. At a local level she is a member of the Board Oaklands FE Corporation and the UCL appeals panel.