Pro Vice-Chancellor (Business and International Development)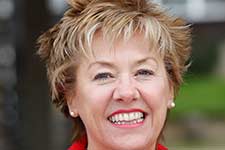 Professor Julie Newlan
Professor Julie Newlan is Pro Vice-Chancellor responsible for:
innovation
international
enterprise
business development
marketing and communications
As well as overseeing strategy in these areas, she manages teams and initiatives relating to commercial income, knowledge transfer, graduate enterprise and employability, reputation management, fundraising and recruitment.
Julie's role also covers leveraging intellectual property, and developing enterprise and entrepreneurship opportunities for students and staff.
Julie is responsible for:
UK, EU and international recruitment
Corporate media
PR and events
fundraising
alumni relations
She joined the University's Business School in 1996 as a Senior Lecturer in Business Strategy, and held various posts before being appointed Head of the Business School in 2006.
Julie's academic career began at the London Institute in 1993, after achieving management success in the hotel and restaurant sector. This included running a chain of high street cafés for Martin The Newsagent, and subsequent strategic marketing and merchandising positions with Guinness when it acquired the business.