Chief Information Officer
David Ford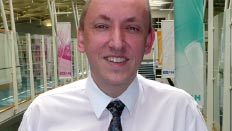 David Ford is responsible for the leadership and strategic direction of the University's library and computing services. This covers:
the Learning Resources Centres
the online and physical library collections
the computing infrastructure, learning environment (StudyNet), business systems and desktop and computing services.
His career has included a doctorate in computer science, working for 13 years as software development manager within a commercial organisation, and 14 years within information services in UK Higher Education.