Robert Voss CBE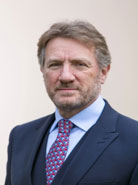 CBE, CStJ
Robert graduated in Management Science from Manchester University and The Manchester Business School in 1975 (where he maintains strong links) and went on to spend 40 years in the commodity business trading internationally in over 65 countries-28 years running his own company for the last 28 years.
He was elected President of The British Metals Association at the age of 31 and went on to become President of the European Metal Federation in Brussels for 16 years and Vice president of the International Federation for over 20 years-acting as the UK representative in various trade and environmental negotiations. He also chaired the International Trade Council for 7 years.
Robert has a keen interest in young entrepreneurs and been a judge and mentor for Young Enterprise in Hertfordshire for a number of years and also established and ran a Young Entrepreneurs Challenge as well as investing in a number of young companies.
He has been a regular judge of The National Business Awards since 2006 and has acted as a consultant, mentor and non-exec to a number of companies.
Robert was awarded a CBE "for services to British Industry and voluntary work in the UK" in the New Year's Honours List of 2014 and was a Deputy Lieutenant of Hertfordshire until he was appointed Her Majesty's Lord-Lieutenant of Hertfordshire by The Queen in 2017-a position he will hold until 2028.
He is Patron and (Vice) President of a number of local and national charities and is active in Holocaust education.
Robert and his wife Celia have 3 children and 2 grandchildren and have lived in Hertfordshire for over 30 years.